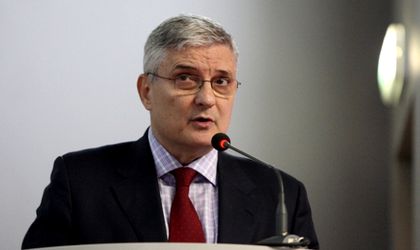 Cryptocurrencies won't replace the currency issued by central banks, but these banks will be able to issue digital currencies, said Daniel Daianu, a member of the Romanian National Bank (BNR)'s Administration Council, during a conference on Tuesday.
"We must be aware of the difference between institutions and the roles they have. It is important for these roles not to disappear. Of course, technologies ensure business models and they have always done so. The segmentation of markets has been done for decades, and fintech helps business. Another essential issue is the distinction that must be made between technologies like blockchain and cryptocurrencies. In my opinion, these are financial assets, not cryptocurrencies, and they won't be able to fulfil the basic roles of currency. Currency is always backed by a last-resort lender. In markets, the state is the only possible last-resort lender. When the banking system was saved, it wasn't crypto banks that were saved. Central banks intervened by issuing base currency, which was followed by non-conventional measures. Cryptocurrencies will never be able to substitute the currency issued by a central bank. What can happen is for central banks to have a digital currency, but that will also be issued by the bank, and commercial banks will receive digital currency that can multiply. I do agree, however, that new technologies lead to disintermediation and this feature of decentralization shows us the merits of networks," Daianu said.
Speaking about the Romanian capital market, the BNR official noted that it is a weak market both in terms of the number of transactions as well as the number of listed companies.
"We have a weak capital market, not just due to the transaction volume, but also in terms of the number of listed companies. The issue of capital markets is a European one. In the US, capital markets finance three quarters of the economy, while in Europe they have a much lower stake, and there are major differences between countries. 80 percent of transactions with derivatives go through the London market and these things aren't related to the concept of Brexit; they are very practical. You can see how difficult it is to unite the capital  markets. Locally, small companies can't list elsewhere, but large companies can do so. I think that the Financial Supervision Authority must continue to fight for the development of local capital market. It's not an easy thing to do. We also need companies to want to list. We have to help our companies even though many of them prefer bank loans, and we must accept this as well. Let's not claim that stock exchange financing is beneficial for companies under any circumstance, because that is not true," he stated.