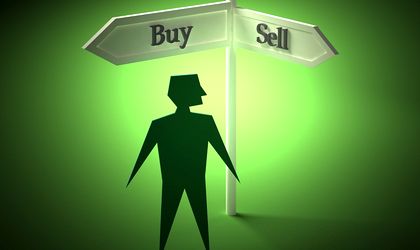 Anyone who has cash is in a position to make strategic acquisitions, which could mean gaining greater market share or penetrating new markets. But experts are warning entrepreneurs to make an exit from their business only if it is absolutely essential.
 Anda Dragan
At some stage, many businesspeople will sell their company, and hope that doing so will leave them with a nest egg. But any exit needs to be carefully planned, especially now that the current downturn has hit almost all economic sectors. On top of this, the crisis is making it increasingly difficult for owners to sell their companies at the prices they had hoped for. A proper strategy involves being in control of the business, having clear goals, being focused on them and having a plan for a profitable exit.
But what happens when an entrepreneur decides to sell his or her business in a downturn? Is now the right moment for such a move or would it be better to hold off until Romania emerges from the recession? Many specialists recommend that owners sell now only if they are forced to do so by the current economic woes. If it does come to this, what should the seller expect?
"An entrepreneur selling their business now will get a price that is two or even three times lower than before the crisis, depending on the type of business and field of activity," says Valeriu Nistor, managing partner at SOAR Management si Investitii. From this perspective, it clearly makes sense for an entrepreneur to hold onto their business until the crisis passes if they want to get a reasonable price for it. According to Nistor, sale prices will return to a level comparable with those posted in 2007 and 2008 in the next two-three years.
But Andrei Iordache, consultant at Visionwise, is slightly more pessimistic regarding any such recovery. "Prior to this economic slump we had the so-called roaring 2000s. Those times, together with the huge EBITDA multiples, will only return when the next bubble comes. Taking into account the economic history and human nature, I see this being in five to ten years. However, I would not take this estimate to the bank or the private equity fund," says the consultant.
In his opinion, for the past few years entrepreneurs have been bargaining for so-called price premiums. "This means that after establishing a baseline price for a specific company, both parties spent a lot of time haggling over the monetary values of 'market leadership', 'liquidity' and other enhancements added to the company for sale," says Iordache. He says that now, entrepreneurs are tending to get offers limited to the fair value of the company. "This is because the opportunity cost of money has skyrocketed in the last year."
Iordache underlines that prices are volatile and specific to each transaction. Furthermore, regardless of the price offered by private equity funds, entrepreneurs should do their own calculations and consider the following questions before making a final decision: Can the company survive without a cash or equity injection? Do I personally need the money right now.? "If one answers no to the first question and yes to the second, than any deal is better than no deal at all," says Iordache. "This basically means that if an entrepreneur is on the hunt for a good price, I would advise him or her to wait. If the decision to sell is about the future of the company or to meet a pressing need for personal cash, than a transaction is due," adds the consultant.
Of course, selling a business also requires willing buyers, of whom there are few in an economic downturn. This is the case not only in Romania, but also on other, mature markets. At international level, the number of small businesses sold fell 36 percent in the first quarter of 2009, compared to a year earlier, according to the marketplace for buying and selling small companies, BizBuySell.com. Even if buyers' interest is piqued, most don't have the cash they had a year ago. Plus, the availability of capital from lenders or any other financial institutions is still restricted.
Any entrepreneur who decides to sell their business needs to consider that the uncertainty of the economy is playing an important role in reducing the volume of sales. According to experts, the rule that sellers should take three years of a company's financial situation into account when setting a purchase price and calculating how much cash they expect a business to generate, currently does not apply.
As for likely purchase targets, Iordache says that market leaders could still be courted by private investors and even banks. "I would also recommend entrepreneurs embrace the trend towards consolidation which has started in certain industries such as specialized retailing – shoes, pharmaceuticals and telecom," says the commentator.
It is clear that anyone with cash to splash at present has a great opportunity to buy much more cheaply than in the past and, as a result, to gain market share or enter a new business segment. The market offers a wide range of ways to acquire companies that are forced to sell rather than go into liquidation, which could make it a seller's market.