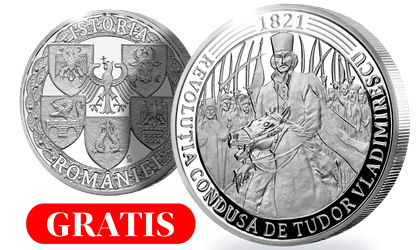 Casa de Monede, leader in Romania in the distribution of coins and collection commemorative medals, celebrates 200 since since the 1821 Revolution lead by Tudor Vladimirescu with the launch of a commemorative medal. It will be offered with free title in a circulation of 50.000 copies, in the limit of one per household. 
By Romanita Oprea
Tudor Vladimirescu – emblematic figure of Tara Romaneasca's history
Tudor Vladimirescu gets remarked in the Russian-Turkish war (1806-1812) where he takes part as volunteer in the Russian army alongside the Pandurs of the Oltenia area. Thanks to his courage and his military capabilities he receives the Lieutenant grade and is decorated with the "Vladimir" order, third class.
The revolution lead by Tudor Vladimirescu was, in a degree, paradox: even if it was defeated, it didn't actually fail as its main politic purpose was achieved. Starting 1822, both Tara Romaneasca and Moldova ended a dark epoque of the Phanariot rulers.
"The 1821 Revolution lead by Tudor Vladimirescu was one of the events that marked the beginning of the Romanian national rebirth. The Revolution had national, economic and social causes and it brought to the attention of the big European powers' chanceries the situation of the Danubian Principates and determined the Ottoman Empire to put an end to the Phanariot rulings. Proud, precise, with fighting spirit and a strong ambition – this is how Tudor Vladimirescu was described by his contemporaries. His portrait become emblematic, with his imposing stature on the horse, combine perfectly with his looks. It's the main graphic motive of the commemorative medal," said Libor Veselý, Director Casa de Monede.
The medal can be reserved on the official website www.medaliegratuita.ro or by phone at 021 9787. The persons ordering the medal only have to pay for the shipping and packaging – RON 14,99.