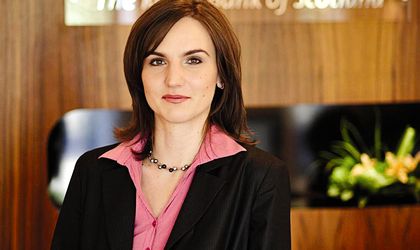 Georgeta Bora, corporate responsibility coordinator at RBS Romania, gives Business Review the lowdown on CSR projects in the banking system and the main trends on the market, and explains the lender's CSR strategy.
Anda Sebesi
What CSR issues are of concern to banks in Romania?
Although the banking industry is not perceived as being a polluting one in Romania lenders have a significant impact on the environment because they finance customers from all industries. The role of lenders is to look at and analyze whether their customers have environmental policies or risk management systems to prevent accidents. Another very important issue, though apparently insignificant, is the direct impact of lenders on the environment through their operational activities: used PETs and paper, the consumption of energy and water, their car park and what kind of building they use.
What types of CSR projects are banks rolling out?
The environment is an important concern, followed by education, with culture and art being other natural domains of lenders. Recently financial education has become part of many banks' CSR strategies. This is normal because a lender has to educate its current and potential customers and so this is part of its responsibility. Many lenders have realized this and sooner or later moved into this area. I think that the financial crisis has helped us to structure some of our projects and activities and consolidated long-term partnerships. In addition, the current downturn has "polished" all CSR activities, with companies paying more attention to those projects that involve employees and keep their spirits up.
What is the difference between the CSR activities of lenders in Romania and those practiced in Central and Eastern Europe?
I think the Romanian market is similar to Poland and Turkey from the CSR strategy perspective. There is an obvious gap between Western countries and Romania, especially in terms of mindset. We always have to explain concepts like CSR and sustainable development. But multinationals are closing the gap because they come with CSR policies and impose a trend on the market. However, Romania has an advantage: that of doing things in an easier manner. In Western countries I noticed a stronger link with business. CSR consultancy is more developed than in Romania, there is social entrepreneurship and there are sustainability training companies. I think that in five years the situation will be different, with some areas of the local CSR market being more developed than now. There will be more CSR consultancy companies and everything will be more structured.
How has RBS got involved on the local CSR market?
Our CSR strategy has covered four areas in the last two years: environmental protection, employee engagement, community investment and financial education. For the first one we have some procedures that help us to evaluate customers from sectors more exposed to environmental and social risks such as mining, metal and wood work, and hydraulic power plant building. For those companies from "heavy industry" we have a special procedure to evaluate them. The second aspect of environmental protection has been to develop products and as an example we have launched carbon emission trading products. Customers can trade certificates to ensure they keep within the law regarding the quantity of their emissions and comply with the EU emissions trading scheme. If their emissions are high they can buy more certificates while they are low they can sell them. The third component of environmental protection is to minimize our direct impact, which means that we have been recycling paper, PET and carton since 2006.
As for employee engagement at RBS Romania, all new recruits participate in an "on boarding program", of which sustainable development is part. We also involve them in different awareness campaigns such as donations at Easter and Christmas, volunteering, etc. Elsewhere our strategy for community involvement is to work with partners on different community issues, such as AIESEC on sustainable development and education, Habitat on building houses for needy people, United Way on social problems, Viitor Plus on environmental projects and NESsT on social entrepreneurship. Each of these partnerships involves RBS employees as volunteers. Last but not least, the financial education program MoneySense has two pillars – financial education for young people and for adults. We have invested about EUR 70,000 in implementing this project this year.
Many companies have cut their marketing and CSR budgets since the current downturn began. What is your take on this?
From a company's perspective it is understandable to cut some budgets in order for the organization to survive. I think it is important to choose those CSR projects that are really linked with the business. Plus, CSR is very often similar to sponsorship in Romania. In other words if you give some money and are involved in volunteering it means you're doing CSR. I think CSR should be carried out through the business. For example, we have an e-banking platform and we are trying to encourage our customers to give up paper bank statements and use electronic ones. This action helps the environment on the long term. Companies should be wiser and if they don't have enough financial resources to be a sponsor they should try to make their products more environmentally friendly, or make customers more aware of their choices.
What can you tell us about product and services development in times of crisis on an emerging market such as Romania, and in a context of the pressure of the public's reduced purchasing power?
We need to adapt. Customers will always have financial needs. But it is important that the financial education is present around each category of bank products and services.