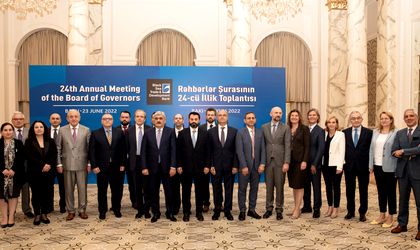 The Board of Governors of the Black Sea Trade and Development Bank (BSTDB) held its 24th Annual Meeting under the Chairmanship of Mr. Samir Sharifov, Minister of Finance of the Republic of Azerbaijan.
The Board of Governors approved the 2021 Financial Statements, and the net profit of EUR 43.9m million, allocated to the Bank, meaning it is in profit for the seventeenth consecutive year.
For BSTDB, 2021 was the third year of implementation of its Medium-Term Strategy and Business Plan 2019-2022, and it was one of the most successful years of operation since the Bank's inception.
Shifting from responding to the pandemic in 2020, when operational activity had focused upon supporting existing clients and providing financing for firms dealing with the impact of economic decline, the Bank returned in 2021 to a more diversified approach helping firms to continue deferred investments or undertake expansion in order to capitalize on new opportunities. For the year, BSTDB's portfolio grew 14.6%, reaching € 2,37 billion. The Bank's Board of Directors approved 29 new operations, for € 733.9 million. New signings leaped from 20 in 2020 to 32 in 2021, up 31.5% in volume terms to € 820.7 million.
The Board elected the Governor for the Republic of Bulgaria as Chairman of the Board of Governors. The Governors for the Greece and Georgia were elected as Deputy Chairmen, for a period of one year until the next BSTDB Annual Meeting confirmed to take place in Bulgaria in June 2023.