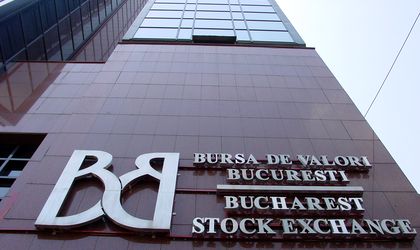 The value of transactions closed on the Bucharest Stock Exchange (BVB) with shares in the main segment market dropped by 16 percent last week compared to the previous period to RON 119.79 million, due to the ongoing discussions regarding the future of pension Pillar II.
At the start of the week, the BVB recorded a decrease, closing the trading session on the same market on the same day, recording a 16 percent decrease in share transactions. On Friday, the BET index fell by 0.02 percent, BET-TR declined by 0.01 percent, and BET-FI declined by -0.16 percent due to the main listed shares which fell sharply, amid a scandal over pension II pensions. Between May 21-25, 10,442 transactions were made with 87,494 million shares and the capitalization of the companies was RON 166.75 billion.
The companies with the most traded shares on the main market were: Transilvania Bank with RON 41.6 million, BRD with RON 17.43 million and Romgaz with RON 14.66 million.
Last year, after 99 trading sessions, with 241,574 transactions on the regulated market, the daily average value was RON 49.43 million. The total value of share transactions exceeded RON 4.89 billion this year. 
A study by the APAPR – Pension Funds Association – shows that pension funds are the main institutional investor in Romania, arguing that 92 percent of the assets of about EUR 9 billion of Pillar II are invested in the Romanian economy.
Moreover, Pillar II currently holds about 7 percent of Romania's public debt, and Pillar II funds have an exposure of about EUR 1.9 billion (20 percent of the freely traded shares) at the BVB, providing around 15 percent of liquidity.
The Government Legislative Program of 2018 includes, among other things, as a "legislative priority" a "bill on the regulation of privately managed mandatory pensions (Pillar II)", with the stipulation that between 1 July and 31 December the related contributions will be suspended. CAS contributions (social security contributions related to the pension) are "fully charged to the budget" with "suspension of contributions during the period 1.07 – 31.12.2018". Currently, Pillar I pillar I (state-managed pension system) automatically drives 3.7 percent to Pillar II. The government rejected any claims that it planned to change the structure of the pillar, whose funds are managed by private administrators.