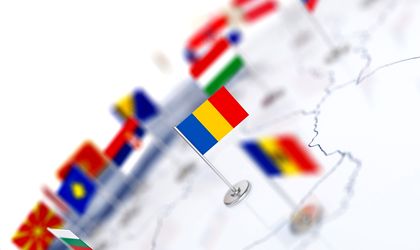 Romania is nearing the end of a two-decade cycle of fast economic growth and closing the gap with Western Europe. But analysts say its current wage-led growth government policy is now running out of steam – and money – to maintain the course of the country towards greater development and welfare.
Many countries' history includes glorious periods of fast development and virtuous economic cycles.
In France, the three decades following World War II are called "les trente glorieuses" (the glorious thirty) as they were a period of rapid advancement, low unemployment, rising welfare and falling poverty – an invisible revolution, some experts say.
Romania has also experienced some good times in the past, but very few periods compare to the last two decades in terms of real development.
Even so, viewed from Western Europe, Romania still looks like a poor country, say pundits. But in the economy, like in society, there are more than fifty shades of "poor".
Every country outside the "developed world" is poor in its own and unique way, which often evolves, and Romania now looks poor in quite a different way than it looked 20 years ago.
In fact, analysts say Romania has evolved from a "very poor country", prior to 2000, to a "poor country", until EU accession, and then to a "not so poor country" since 2007.
The glorious 20
Since 2000, the first year of the current cycle, Romania has experienced 17 years of GDP growth and only two years of economic decline (2009-2010), and the real convergence was among the most impressive on the European continent.
The numbers look almost incredible. In 2000, Romania's GDP was EUR 40 billion (less than EUR 2,000 per capita), while in 2017 the values hit EUR 188 billion, or EUR 9,600 per capita, and will exceed EUR 200 billion or EUR 10,000 per capita this year.
Even compared with its neighbors, Romania has performed very well during the last couple of decades. In 2002, Romania had a GDP per capita of EUR 2,300, similar to Serbia, while Hungary registered EUR 7,100 and Bulgaria EUR 2,200, according to Eurostat data.
Fifteen years later, in 2017, Romania's GDP per capita was up by 4.2 times to EUR 9,600, while Hungary had marked a gain of 79 percent to post EUR 12,700, Bulgaria's indicator was up by 3.3 times to EUR 7,300 and Serbia's by 2.4 times to EUR 5,600.
Even Poland, seen as a top economic performer in the region, saw its GDP per capita climb only by 2.2 times between 2002 and 2017, from EUR 5,500 to EUR 12,200.
In terms of purchasing parity standards, used to better compare nations given the differences in prices, Romania entered the EU posting 39 percent of the EU average (in 2006) while the indicator was up to 63 percent last year. During the same period, Serbia experienced an increase from 32 to 37 percent of the EU average, Bulgaria from 37 to 49 percent, and Hungary from 61 to 68 percent.
According to Eurostat, Romania's 63 percent of the EU average in 2017, ranks above Bulgaria (49 percent) and Croatia (61 percent), and approaches Latvia and Greece (both 67 percent), Hungary (68 percent) and Poland (70 percent).
Experts point out that, within a decade of joining the EU, the Romanian economy has grown quickly despite the financial crisis and has even managed to become the largest in the region. And yet over the very same period millions of Romanians have left the country in search of a better life in Western Europe.
Some experts describe this situation as a "Mexico on this side of the wall" model, with Romania being a poor country situated close to a very rich area – Western Europe – and becoming a cheap labor source, without the restrictions on workforce movement seen in the US/Mexico. But this model has some advantages in terms of economic achievements.
Last year, Romania outpaced Greece for GDP for the first time since the 1970s, to become the biggest economy in the Balkans (Turkey excluded).
Romania's GDP recorded a growth of 6.9 percent in 2017 to reach EUR 187.9 billion, while Greece's GDP was EUR 180.2 billion, according to Eurostat data.
End of the current economic cycle
Gross domestic product is still a widely used index to measure the size of national economies, but many experts say that it's not only size that matters.
Even though Romania is now the biggest economy in its subregion, it has a lot of problems in terms of its quality.
"Structurally, the direction of the Romanian economy is towards producing goods and services with low-value added. We've made progress within the last ten years, but there are still huge differences and Romania doesn't have a coherent economic development strategy," BCR chief economist Horia Braun told Business Review.
Historically, few nations outside Europe and North America have managed to become developed and industrialized, and mostly in the 20th century. Japan, South Korea, Singapore and, more recently, some oil-rich Arab countries have achieved the status of developed economies using a variety of tools.
In the case of Romania, the problem is that its economy and society became only partially industrialized and modern during the 20th century.
In order to achieve its goals in the 21st century, pundits say Romania needs good – and less populist – policies to sustain its development.
No more money for wage-led growth
During the last few years, the government has adopted a strategy of wage-led growth, stimulating household consumption and GDP growth rates, but this model has generated larger fiscal and current account deficits. This strategy has reached its limits, experts warn. During the first nine months of this year, the Romanian economy grew by 4.2 percent year-on-year and by 4.3 percent in the third quarter, but there are already strong signals of a slowdown.
"Productive investment declined by 1.1 percent year-on-year (in Q3), an evolution influenced by the signals of an end of the post-crisis economic cycle and the accumulation of challenges in the sphere of internal macroeconomic balances (public finances and current account)," Banca Transilvania analysts said in a recent report.
For 2019, many economists forecast a slowdown of the economy to growth rates below 4 percent, but even these levels depend on the health of the European and global economy. According to National Bank of Romania (BNR) board member Daniel Daianu, a possible world crisis would automatically affect Romania.
"So there is the possibility – the slowdown has already begun – there will be a recession, but it will not be of the magnitude of 2007-2008-2009. And it must be underlined that the evolution of the Romanian economy is linked to the evolution of European economies, to what is happening in the global space, because we have an open economy," Daianu said in a recent speech.
Despite the government's optimism, its current wage-led growth strategy needs money to finance it – and the government is rapidly running out of resources.
The government has delayed approving the public budget for the next year and some officials have indicated that a freeze of pensions and public wages until September 2019 could be on the cards due to fiscal constraints. According to experts, Romania's public spending on wages and pensions has this year exceeded 60 percent of total spending, largely above the levels of the financial crisis.
According to Business Review's calculations, public spending on wages and pensions reached 58.7 percent of total budgetary spending in 2017 (RON 162.2 billion out of RON 276.1 billion), above the levels seen before and during the financial crisis – 52.4 percent in 2008, 57.3 percent in 2009 and 55.1 percent in 2010.
Rising public spending on wages and pensions in 2008 and 2009 was one of the main causes of the huge budgetary constraints in Romania during the financial crisis, which ultimately led to the EUR 20 billion salvage-loan from international financial institutions in 2009 (the IMF, European Commission and World Bank) and to the 25 percent cut to public sector salaries in 2010.