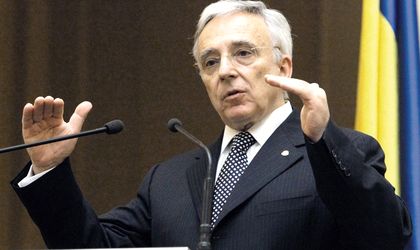 The governor of the National Bank of Romania (BNR), Mugur Isarescu, has revealed in his annual wealth statement, mandatory for all public servants in Romania, that he earns each month more than EUR 14,000 in wages and EUR 2,000 euro in pensions.
Isarescu declared that his annual wages from the NBR reached RON 787,206 (EUR 172,255), equivalent to EUR 14,355 per month, and his pensions for the period September-December 2017 were RON 37,297, or RON 9,324 (EUR 2,040).
The governor have had last year other income – from the Romanian Academy, Academy of Economic Studies and dividends – of RON 35,572 (EUR 7,785).
Isarescu's income totaled RON 860,075 (EUR 188,200) in 2017, according to his official statement from June 14, 2018.
Romanian public servants are allowed to cumulate wages and pensions. Isarescu's last statement suggest that he is receiving public pension since September 2017.
Isarescu, aged 70, is ending his current 5-year term at the head of the central bank in 2019 and it is not clear if he will run for another term.
Isarescu has been a governor of the BNR since 1990 and he is one of the longer serving central bank governors in the world.