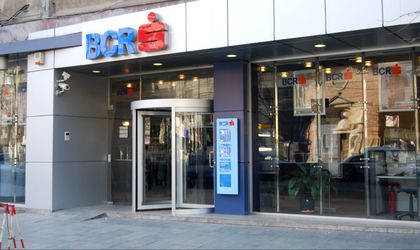 Banca Comerciala Romana (BCR) recorded a net profit of RON 267.9 million (EUR 56.6 million) in the first quarter of the year, up by 6 percent over the same period of 2018, a smaller growth than its parent company Erste Group registered in the same period.
"We believe in the Romanian economy and we continue to finance it responsibly, because this is our role. We are grateful to our clients who also invest their trust in us because continuous dialogue helps us be better. I want to thank our colleagues for believing in our transformation and our ambition to become true financial advisers. We will continue to invest in the development of digital platforms, particularly in George, to respond quickly to the latest trends and updated needs of banking users," said Sergiu Manea, BCR's CEO.
In retail banking, BCR granted new loans in local currency for individuals and micro-enterprises of over RON 1.6 billion in the first quarter of 2019, both for mortgage loans and for personal loans.
In the corporate banking activity, the value of the new financing approved by BCR was RON 974 million (205 million euro). Major sectors such as manufacturing (mainly automotive), construction, commerce and real estate have been supported. Moreover, there has been a 17 percent increase in SME finance as a result of attracting new customers and increasing leasing activity.
BCR has initiated the BCR-InnovX Accelerator program, dedicated to technology-based start-ups that want to expand their businesses internationally. The first group of 10 start-ups with a turnover of between EUR 100,000 and EUR 1 million entered the Bootcamp in March. Two other groups will follow this year, Grinders (turnover between EUR 0 and 100,000) and Scale-up (turnover between EUR 1 million and EUR 2.6 million).
In the first quarter of this year, BCR accelerated the digitization and simplification of operations. The smart banking platform George has reached 450,000 active users in the first quarter of 2019, up 30 percent over the fourth quarter of 2018. George has been continually improving with new features, the most important being the opening of a new 100 percent online and with attached card without branch visits. Over 75 percent of active users use the mobile version, while the number of digital transactions increased by 60 percent compared to Q4 2018. BCR today has more than 1.4 million active digital service users.
BCR performance in Q1 2019
BCR achieved a net profit of RON 267.9 million (EUR 56.6 million) in the first quarter of 2019, up 6 percent sustained by good operational results, low risk costs and good performance on all business lines.
The operating result decreased by 11 percent compared to the first quarter of 2018, reaching RON 330.8 million (EUR 69.9 million), mainly affected by the higher annual contribution to the deposit insurance fund in 2019, while operating income has improved.
Net interest income increased significantly by 17.1 percent to RON 546.4 million (EUR 115.4 million), from RON 466.6 million (EUR 100.2 million) in the first quarter of 2018, amid a trend of rising interest rates.
Net commission income increased by 2.4 percent, to RON 175.2 million (EUR 37 million), from RON 171.2 million (EUR 36.8 million) in the first quarter of 2018, in a fierce competition and in a well-regulated market environment.
Net trading result decreased by 47.9 percent to RON 58.1 million (EUR 12.3 million), from RON 111.5 million (EUR 24 million) in the first quarter of 2018, mainly due of the reduced currency revaluation and exchange rate swaps.
Operating income increased by 4.4 percent to RON 800.5 million (EUR 169 million), from RON 767 million (EUR 164.8 million) in the first quarter of 2018, driven by net interest income as a result of rising interest rates and higher business volumes.
General administrative expenses in the first quarter of 2019 totaled RON 469.7 million (EUR 99.2 million), up 18.8 percent from RON 395.2 million (EUR 84.9 million) in the first quarter of 2018, affected by the larger annual contribution to the deposit guarantee fund in 2019.
Thus, the cost-income ratio increased to 58.7 percent in the first quarter of 2019, compared with 51.5 percent in the same period in 2018.
Risk costs and asset quality
As regards the net loss resulting from the impairment of financial assets that are not measured at fair value through profit or loss, BCR recorded a provision of RON 40.9 million (EUR 8.6 million), compared to a RON 0.1 million in the first quarter of 2018, driven by a fall in non-performing exposure as well as a rate of non-performing loans.
The NPL rate of 5.6 percent on March 31, 2019, declined further from 5.8 percent at 31 December 2018, driven by further corporate back-ups. The ceiling on provisioning for bad loans reached 100.9 percent in March 2019.
Capitalization and financing
The solvency ratio according to local standards (banking only) since February 2019 is at the level of 20 percent, well above the regulatory requirements of the National Bank of Romania. Also, the 19.6 percent Rang 1 + 2 (BCR Group), starting December 2018, indicates the strong suitability of BCR's capital and Erste Group's continued support. In this respect, BCR enjoys one of the strongest capital and financing positions among the banks in Romania.
BCR continues to maintain its high solvency ratio, thus demonstrating its capacity and commitment to supporting sustainable credit growth both in the retail business line and in the corporate business line, thereby enhancing the ability to generate significant revenue from its core business.
Loans and advances to customers increased by 3 percent to RON 37.505 billion (EUR 7.878 billion) on 31 March 2019, from RON 36.4 billion lei (EUR 7.805 billion) at 31 December 2018, supported by both retail and corporate finance.
Customer deposits dropped by 1.6 percent to RON 54.241 billion lei (EUR 11.39 billion) on 31 March 2019 compared to RON 55.099 billion lei (EUR 11.815 billion) in December 2018, due to the decline in corporate deposits. Client deposits remain the main source of financing for BCR, while the bank benefits from diversified sources of finance, including the parent company.