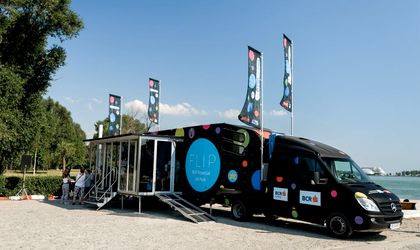 The Romanian Commercial Bank (BCR) continues the financial education courses with a new season Wheel Money School. The caravan will start on the 12th of February, with a first stop in the town of Pitesti. This year the FLIP truck will reach 11 cities, go to sea camp and prepare surprises for children on June 1.
The complete program can be found below, but also on the site scoaladebani.ro/peroti/program.
Piteşti – February 12 – March 4
Craiova – March 5-26
Drobeta – 27 March – 23 April
Târgu-Jiu – 25 April – 11 May
Râmnicu-Vâlcea – 13 – 30 May
Brasov – 1-20 June
FLIP goes on holiday – June 20 – July 1
Camps at sea – 1 July – 10 September
Calarasi – September 12 – October 2
Giurgiu – 4 – 21 October
Alexandria – 23 October – 13 November
Ploieşti – November 15 – December 10
Subscriptions have already begun, and teachers or parents who want to give a fresh educational experience to young people can sign up for the campaign website. During the workshops, children go through an hour and a half concepts and economic notions through play, and thus understand them more easily without having to listen to definitions or formulas.
"We want to have as many students as participants in financial education workshops in the new Wheel Money School season. We believe that we need to teach children, from an early age, that it is important to know how to manage their money properly in order to have a healthy start in financial life. In this program we use experiential learning and games specially created by specialists from the University of Vienna to help children accumulate knowledge in a very short space of time that they can use all their lives," says Nicoleta Deliu, the coordinator of the School of Money program.
The Wheels Money School is an initiative that is part of BCR's National School of Money program, which aims to tell Romanians of all ages how to fulfill their dreams by managing their personal budgets as efficiently as possible. Launched 2 years ago, the program now brings together 200,000 Romanians who have graduated from free courses offered by BCR.
In 2018, 110,000 School Money Learners learned how to better manage their personal budget and how to make better financial decisions through proper planning. The courses took place at BCR branches (10,000 participating adults), companies (20,000 participants), universities, high schools and schools (40,000 participants), FliP (10,000 participating children) and kindergartens (30,000 preschoolers participants).
Adults or young people interested in participating in the courses organized by BCR may send an email to scoaladebani@bcr.ro to register for courses or apply for it in BCR county branches.