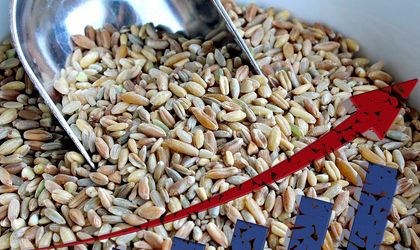 Many lenders active on the local market have decided to concentrate their efforts on credits for agriculture in the last few years. Specialists told Business Review why banks are sowing these seeds and predict the future crop of bank products for farmers and agricultural companies.
Anda Sebesi
Although it has been declining for the past twenty years, Romanian agriculture makes up a greater percentage of local GDP than in other countries in Central and Eastern Europe and the Euro Zone – about 7 percent in Romania versus 4 percent in Poland and Hungary and 2 percent in France – according to a study conducted by BCR in July last year.
The same study found that agriculture had made only a small contribution to Romania's economic growth in the past ten years compared with its weight in the GDP, mainly because of its significant dependence on the weather and the poor state of much farming equipment, which is low-tech and outdated. Moreover, 53 percent of the arable area in Romania is cultivated by small farms of less than 10 hectares that usually are poorly equipped, while the biggest 50 farms in Romania account for less than 5 percent of the total arable area. In addition, more than 71 percent of the total used area is cultivated at low intensity, with farms spending less than EUR 125 on each hectare, compared with EUR 336 per hectare spent on fertilizers and pesticides in France.
In such a context, why have lenders been focusing on agriculture for the last few years? "Banks were impressed by the results posted at macroeconomic level in agriculture and the significant European funds that can be attracted for projects developed in this sector," says Dragos Cabat, partner at eFin.ro. Agriculture also became a target due to the good results that some – albeit a minority of – Romanian companies have enjoyed in recent years.
"The reality is that only a small percentage of companies – the large and well structured ones – have managed to notch up notable performances in that period. The other small companies active in agriculture remained at the edge of profitability," adds Cabat.
Pundits believe that Romania has great potential for development in the agricultural field, as it ranks fifth in the EU 27 for arable area, found the BCR study. And this potential has been spotted by both banks and other financial investors. Moreover, the researchers found that Romania was among the top ten corn producers worldwide in 2010, with a production of over 9 million of tons in a year characterized by favorable weather conditions.
Last but not least, Romania could double its agricultural production and triple its exports if it matched Euro zone levels of productivity, and could meet consumption requirements for about four Romania countries, says the study.
"According to the latest sector analysis, agriculture is one of the fields recommended to invest in. This is why lenders and other financing institutions are attracted to this sector," says Remus Nica, manager of credit products at Intesa Sanpaolo Bank. On top of that, significant European and national funds have been allotted to agriculture, which benefits from subsidies that will increase in value in the coming years and guarantees from funds and state institutions specialized in this sector. "These factors are an additional guarantee and diminish the risk of investments. All of these are arguments that boost interest in agriculture and investments in this field," says Nica.
Dan Petre, commercial respondent for the agricultural market commercial pole network at BRD-Groupe Societe Generale, says that there are two different explanations for why lenders are focusing on agricultural credits at present. "We have seen the constant development of this sector in the last few years, in terms of total production, efficiency of activity and the potential that is still underexploited," says Petre.
At the same time, he adds that lenders have understood that they need to pay attention to a sector that has been neglected so far compared with traditional areas for financing like commerce, services and transportation.
Fields of gold?
2011 was a reference year for this field and demonstrated that a good agricultural year can mean a higher GDP and a lower inflation rate for the local economy. Laszlo Diosi, CEO at OTP Bank Romania, thinks that the country should become a huge agricultural exporter, but in order to achieve this goal its needs a concrete government program and a lot of development in its basic activities and processing industry. But how do lenders see agriculture? "It is a strategic field that has been of great importance to BRD for more than five years," says Petre. The bank has developed a wide range of dedicated products for agriculture that illustrate its trust in this field of activity. "Despite this, we believe that there are still many things to do in rural areas, where access to bank products can increase significantly both in terms of financing and current operations," he says.
Elsewhere, Intesa Sanpaolo Bank has accumulated significant experience in this field, and the lender has included in its portfolio a dedicated product range for farmers and companies conducting agricultural activities for the last few years. The bank has significantly improved its offer lately, says Nica.
"In addition to our financing solutions, our agricultural customers can benefit from the entire range of general products and services, like current accounts, savings instruments, internet banking and cash management.
All of these prove that we are interested and actively involved to a larger extent in supporting agriculture," says the representative of Intesa Sanpaolo Bank.
Lenders reap positive results from agriculture
Since 2009, when Intesa started to seriously finance agricultural companies, the volume of agricultural loans granted has increased each year.
"We estimate that the trend will grow in the coming years, both because of increased demand, a diversified range of dedicated products and because Intesa Sanpaolo Bank became known among farmers as an open and fair partner," says Nica. Meanwhile, OTP Bank has seen a gradual but steady increase in this sector of activity in recent years. "So far we have had a traditional agricultural portfolio mainly involving processing companies," says Diosi.
The strategy of BRD-Groupe Societe Generale for this sector was to create and implement new types of financing every year in order to support those companies that have agriculture as their main activity, regardless of their organizational form: companies, authorized individuals (PFA) or lone agricultural producers.
"At present, BRD covers both the needs for working capital and investment projects developed by farmers through a wide range of financing products," says Petre. He adds that loans for working capital based on subsidies have posted good results in the last three years. The lender also has a loan for agricultural campaigns in its portfolio which offers several advantages, such as the range of expenses that can be covered by it, in addition to the level of financing – up to 80 percent of expenses from the agricultural campaign – a grace period of ten months for the principal and six months for the interest, adapted to the specifics of crops. As for investment loans, customers can access credit of up to 75 percent of the total value of the investment project for up to ten years, with a grace period of up to nine months based on the seasonal production cycles.
"Our focus on the needs of farmers took BRD's total exposure to eight percent of credits given to the agriculture and food industry," says the representative of BRD. In addition, the bank created EUROBRD, a special program for borrowers who need loans for projects with a European funds component.
Harvesting future development
Specialists believe credits for agriculture can post significant increases in the coming period because it is still an under-financed field. Moreover, agriculture was considered to represent a maximum risk for a long time and so there were no financing lines dedicated to it.
"The direction will be upwards, and this increase will be more visible as we assist with the pooling of subsistence farms into larger companies in the years to come, with more resources and opportunities to attract funds," says Nica of Intesa.
Specialists say that after a long period when agriculture was not appealing to lenders their interest in agriculture is expected to increase significantly is the next few years. "However, a bad agricultural year could lead to adverse reactions from lenders so there is a 50 percent chance of agricultural loans growing rapidly. The amount of loans could double in the next two years. Unfortunately, only large agricultural companies will have access to credit in the coming years," says Cabat. He adds that agriculture has a higher potential for growth than many other industries where Romania is not competitive. "Plus, it benefits both from the domestic market and the potential for exports to the EU zone," he says.
Elsewhere, Diosi of OTP thinks that loans and EU funds are the two factors that will develop agriculture in the next few years.
"If they boom in the coming period I predict a double-digit growth for the agricultural sector," says Diosi. And Petre from BRD believes that financing investments will be the main axis for growth, especially because agriculture needs to modernize and improve the technology of its agricultural equipment and material basis.
According to the BCR study, nominal prices for wheat could grow by more than the historical average by 2020 while those for corn could also outdo the historical average.
Weather conditions and climate change, the level of inventories, energy prices, the exchange rate, demand, commercial restrictions and potential wars will remain the main factors that will determine the volatility of prices at international level, says the same study.
anda.sebesi@business-review.ro
Romanian agriculture facts and figures
Romania ranks fifth in the EU 27 for arable area
More than 71 percent of the total used area is cultivated at low intensity, with farms spending less than EUR 125 on each hectare in Romania
53 percent of the arable area in Romania is cultivated by small farms of less than 10 hectares that are usually poorly equipped
The biggest 50 farms in Romania account for less than 5 percent of the total arable area.
Source: BCR study