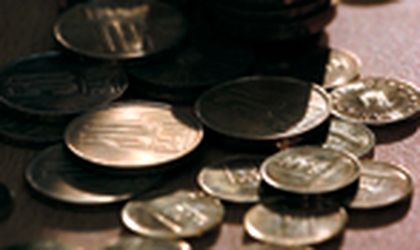 On May 6 this year, Romania's National Bank (NBR) upped the key rate for the fifth time over the past seven months by 0.25 percent to 9.75 percent. Since this has already happened several times already and analysts expect it to happen again this year, the move failed to garner any surprise. What did come as a bit of a shocker was the banks' quick reaction to the increases and a wave of press releases announcing an increase in interest rates for deposits.
"Banks have reacted very promptly this year to the increases in the NBR reference rate by raising interest rates for both deposits and loans. This had to do not only with the credibility of the Central Bank, but also with the perception (later validated by the reality) that inflation was on the increase," said Mihai Bogza, Chairman of the Board of Directors Bancpost.
The strong reactions by some banks propelled interest rates on deposits far above the NBR rate, which reflects a bigger need for liquidity, said Catalina Constantinescu, Senior Economist with ABN AMRO Bank.
"The lenders I was referring to seem to be those that have extended organically very much and the need to have coverage for loans has grown a lot," Constantinescu added.
Take the case of Banca Comerciala Romana (BCR), the biggest lender on the market at the moment and the third most-expansive with more than 580 units at the end of March this year.
BCR upped the interest rate on RON-denominated deposits by a staggering 3.75 percent last week, thus bringing them in the 8 to 10 percent range. Smaller lenders have increased rates as much as 11 percent, reflecting the market's crave for liquidity – a craving it has not experienced before.
"Interest rates on deposits grew more rapidly this time compared to interest rates on loans. The NBR upped the key interest rate by 2.5 percent in the November 2007 – March 2008 period. Subsequently, interest rates on RON-denominated deposits for individual clients grew by more than 2 percent, while interest rates on RON-denominated loans grew by a mere 0.1 – 0.2 percent," said Ionut Dumitru, Head of Research with Raiffeisen Bank.
As regards corporate lending, the interest rate grew in line with interbank interest rates. This is different from what used to happen, namely banks adjusting interest rates on loans more rapidly than on deposits.
"The rationale behind this change lies in the special market conditions. What we see now is less liquidity in RON and even liquidity deficits for some banks, unlike in the past when banks had high liquidity surpluses," said Dumitru.
Lenders' recent moves follow warnings from the central bank that they need to slowdown their lending and fill up their safes with RON. Governor Mugur Isarescu said the national currency surplus they were used to is vanishing – and rapidly. While there might still be periods of time when plenty of lei will be available, they will alternate with periods when RON will be as scarce as water in the desert.
While this might be novel to local banks, analysts say the new status-quo is nothing short of normal in the region.
"There is still a bigger volume of RON-denominated deposits compared to RON-denominated loans, but things are starting to change. The significant liquidity excess in the past tends to disappear. At some point, banks might become dependant on NBR financing, which is absolutely normal in a developed economy," said Dumitru.
"I think that until Romania will achieve real convergence with the other more developed European countries there will be an increasing gap between deposits and loans, with the former lagging behind. This has to do with the low consumption level in Romania, both of companies and households, as well as with the need for higher investments," said Bogza of Bancpost.
Outsourced forex loans – "not a big problem"
Juan Jose Fernandez-Ansola, Senior Regional Representative in Romania and Bulgaria of the International Monetary Fund (IMF), said the high amount of loans is due to the demand for loans out there – a common fact in emerging economies and "not such a big problem" even when forex credits are outsourced to parent-banks.
"When local lenders cannot fund the loans domestically, they fund them outside. This is something that banks have to evaluate: if it is convenient for them to do that given the cost of funding abroad. In a way it is a policy decision of the banks. Of course, by taking these loans abroad banks are taking foreign currency risks, but I am sure that they incorporated these risks in their calculations," said Fernandez-Ansola.
Forex loans represent some 55 percent of total loans, according to official data. When taking into consideration forex credits outsourced to banks abroad, Dumitru said the percentage rises to 60 or 65 percent.
"In a country like Romania and other countries in the region you have a certain base of deposits which is growing at a certain rate and the demand for loans which starts to increase very rapidly. It is hard to maintain loans funded exclusively in the domestic market, especially in a banking system majority owned by foreign lenders," added the IMF representative.
Dumitru said Romania is not a singular case: forex loans have a high weight in total loan volumes in many Central and Eastern European countries, sometimes even more so than in Romania.
"For as long as banks are unable to attract resources in RON at maturities matching the maturities of the loans they grant, I believe it is not only advisable, but even unavoidable that they make loans in FX. It would be a very risky policy to extend loans for 10 to 35 years based on 1-3 months deposits," said Bogza.
Going back to deposits, the market has not seen the end of the lenders' race for liquidity. The wave of reference rate increases is yet to peak, say analysts and bankers.
Following news regarding the economic growth in the first quarter, there is a very high likelihood that the NBR will hike the reference rate for the eighth time in a row.
"GDP data has shown that the economy is overheated and there is a growing surplus on the demand side which is putting extra pressure on inflation and the current account deficit. The NBR will probably first increase the interest rate by an additional 0.25 percent and then start to decrease it again in the latter part of the year, in the September-October interval," said Dumitru of Raiffeisen Bank.
Constantinescu expects the key interest rate to reach a maximum level of ten percent because the annual inflation will remain at around 8.5 percent and even 9 percent in July – if prices of gas and electricity are increased starting July 1. After that, the reference rate will rapidly drop to about 6 percent toward the end of the year, said the ABN AMRO analyst.
Banks that did not align their interest rates to the new market conditions, including important lenders such as second-biggest BRD-SocGen, should adjust their numbers rapidly. The race for RON is on and with the poor performance of the capital market and stock funds lately, more money is bound to be coming the banks' way.
Ana-Maria David