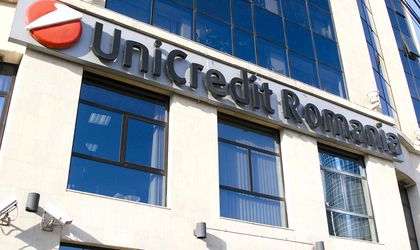 Net profit of UniCredit Tiriac Bank has decreased by 6.9 percent y/y to EUR 38 million in 2011, on IFRS standards, due to weak revenue caused by the slow economic recovery in Romania.
Operating income lost 10.3 percent y/y to EUR 709 million, on decreased interest income and increased financing cost, although commission income gained 10 percent last year, on improved financing trading. Operating expenses were up 4.5 percent, as a result of the VAT hike, increased contributions to the Deposit Guarantee Fund and the extension of the branch network.
Return on equity stood at 6.5 percent, while return on assets was 0.7 percent
"2011 was not easy for the financial sector as the market pressure on liquidity returned, capital requirements tightened globally, credit risk increased and the economic growth was slow," said Rasvan Radu, CEO of UniCredit Tiriac Bank. "We want this year to increase lending to the private sector in order to increase operational revenue," he added.
Radu sees growth potential this year in SMEs and EU financed projects, but he estimates the Romanian economy will recover at a slower pace because the Euro zone economy is losing steam and domestic demand remains low.
The lender's assets increased by 9.9 percent to EUR 5.3 billion at-end 2011, while the loan volume gained 17.2 percent y/y to EUR 3.7 billion and to EUR 4.3 billion if external loans are taken into account.
Although consumer loans dropped 20 percent last year, corporate and SMEs lending rose by 20 percent and 33 percent. Mortgage loans increased by 21 percent last year.
Provisioning for the loans portfolio increased to 8.3 percent. The volume of restructured loans represented 17 percent of the portfolio.
Deposits were up 5 percent y/y to EUR 2.6 billion, with retail clients leading this growth.
UniCredit's loan/deposit ratio stood at 138 percent, while the volume of bad loans slightly increased to 11.7 percent last year. Cost of risk dropped by 31 percent to 204 basis points. Net provisioning for financial assets, mainly loans, was reduced by 24 percent.
The solvency rate stood at 11.4 percent on Romanian Accounting Standards (RAS), above the central bank requirements
The lender opened 10 bank units in 2011 taking the branch network to 245 and the number of employees remained constant at 3,000.
Assets of UniCredit Tiriac Bank, UniCredit Leasing Corporation and UniCredit Consumer Financing gained 9.7 percent y/y to EUR 6.1 billion last year, while the combined net profit was EUR 37 million.
Ovidiu Posirca