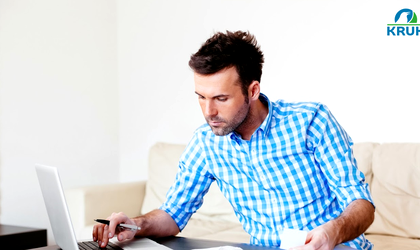 Over 1,100 outstanding invoices have been reported so far in the RedBill module of the termene.ro platform, since the launch of the partnership with KRUK Romania, which took place in February 2020. These outstanding invoices register on average a value of RON 7,400 and over 440 days delay, so about 1 year and a few months. Many companies that have unpaid invoices already consider them losses before reporting them to RedBill.
About half of these outstanding invoices have also entered the amicable collection process. The value of these invoices is in the order of millions of RON, and their payment could significantly contribute to improving the level of liquidity among small and medium-sized companies. The total monthly value of uncollected invoices from the RedBill system was in May 2020 of approx. RON 1.4 million.
"We launched RedBill with the mission to provide business transparency and cash flow health and we are glad that the partnership with KRUK Romania has concrete results for the recovery of the economic environment. The initial reluctance of companies to report uncollected invoices was quickly replaced by the example of fair people, managers and ethical entrepreneurs. We have users who no longer hoped to be able to recover their uncollected money, and the solution offered by us was useful to them," said Ionut Fodoca, General Manager of Termene.ro.

"We help companies improve their cash flow by collecting outstanding invoices. Thus, it becomes easier for them to be able to build short- and medium-term business plans. The invoice with the highest number of days of delay for which we managed to get the payment was about a year and a half old, but any entrepreneur or manager must take into account the fact that the payment becomes less likely as it passes. more time from maturity," said Roxana Bia, Director of the Servicing Area of ​​KRUK Romania.
At the beginning of the year, KRUK Romania and Termene.ro launched the first automated solution for the reporting and collection of uncollected invoices, using the RedBill mode, dedicated mainly to entrepreneurs. RedBill is a product through which companies can report their customers who did not pay the invoices on time, can recover their money for uncollected invoices and can check for free any company in Romania if it has been reported by other suppliers.
Moreover, all RedBill users have at their disposal the experience and resources of KRUK Romania, to which until now the big companies had access.