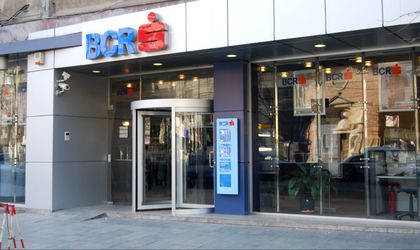 BCR, the largest lender in Romania by assets controlled by Austria's Erste Group, said its net profit reached RON 740.9 million (EUR 159.2 million) in the first half of the year, compared to RON 305 million in the same period of last year.
The lender said it was able to generate RON 4.1 billion in new loans in the first half of the year. The bank saw higher demand for mortgage loans, while micro business sales increased by over 60 percent y-o-y supported by revised offer for current account and by the bank's role in the Start-up Nation program.
In corporate banking business, new volumes added on the balance sheet totalled RON 568 million. There was a significant increase of 16 percent year-on-year in SME financing (small and medium-sized enterprises), as a result of the proactive strategy of supporting local entrepreneurs and further increase in leasing activity.
Loans and receivables to customers increased by 4.5 percent to RON 34.9 billion (EUR 7.5 billion) as of 30 June 2018, from RON 33.4 billion (EUR 7.1 billion) as of December 2017, on the back of strong increase in retail (+8.3 percent ytd), while corporate loans remained flat ytd.
Deposits from customers stood flat at RON 52.4 billion (EUR 11.2 billion) as of 30 June 2018, versus RON 52.2 billion (EUR 11.2 billion) as of 31 December 2017.
The bank's operating result gained 1.5 percent to RON 740.9 million, while the net interest income gained 9.5 percent to RON 962.3 million (EUR 206.7), from RON 878.7 million (EUR 193.7 million) in HY 2017, helped by increase in market interest rates and higher volumes of current accounts.
Net fee income advanced by 3.1 percent, to RON 349.4 million (EUR 75.1 million), from RON 338.9 million (EUR 74.7 million) in HY 2017, on the back of higher fee income from card and maintenance as well as transaction and lending business.
Net trading result was slightly down by 0.9 percent to RON 187.8 million (EUR 40.4 million), from RON 189.6 million (EUR 41.8 million) in HY 2017.
The operating income increased by 7.1 percent to RON 1,541.6 million (EUR 331.2 million) from RON 1,439.5 million (EUR 317.3 million) in HY 2017, driven by higher net interest income as well as better fee income.
General administrative expenses in HY 2018 reached RON 800.7 million (EUR 172 million), up by 12,8 percent in comparison to RON 709.7 million (EUR 156.4 million) in HY 2017, mainly due to investments in the new headquarters and IT projects.
On risk costs and asset quality, the bank recorded a provision release of RON 30.1 million (EUR 6.5 million), versus a charge of RON 61.6 million (EUR 13.6 million) in HY 2017, supported by good recoveries and healings coupled with low allocations based on better quality new business.
The rate if non-performing loans stood at 6.7 percent as of June 30, compared to 8.1 percent as of December 2017.