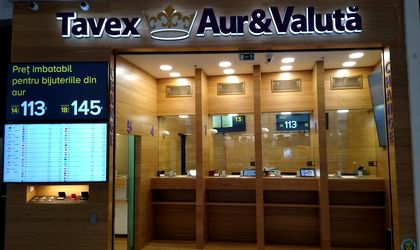 Tavex Financial Group, founded in 1991 in Estonia and market leader in Northern Europe, is consolidating its operations on the full physical gold trading and foreign exchange services market in Romania.
The business model of the Estonian company is an innovative one on the local market because it offers Romanians the possibility to use physical gold as a financial product to make transactions and investments. After investing 2.5 million euros in Romania last year, the group aims to expand into the Romanian market.
Tavex is present in 10 countries in Europe, with a network of over 30 offices and a total number of 250 employees, and the representative office in Romania was opened at the end of 2019, currently having 3 offices, all in Bucharest. In addition, the Estonian company has a state-of-the-art webshop, where customers can make transactions at any time, also benefiting from quick support from the Tavex team of specialists.
"The onset of the Covid19 pandemic in the spring of 2020, shortly after we had just entered the Romanian market, was a real challenge for us. Investing in physical gold has once again proved to be very valuable in times of crisis. Investment gold transactions are on an upward trend in Romania as well. Starting with March 2020, we noticed a 20% increase in sales from one month to another ", says Dimo ​​Stefanov, country manager of Tavex Romania.
The Estonian Group offers its customers very competitive prices for the physical gold traded due to the close relationships that Tavex has with the largest gold refineries in the world. At the same time, the traded gold can be resold anywhere in the world by customers due to the certification of origin.
"Selling and buying prices are updated every 15-20 minutes depending on the evolution of international markets, which brings liquidity to the local market and makes us a real market maker. We have the ability to buy and sell very large quantities of physical gold, and the company's liquidity allows us to make transactions of thousands of euros on the spot. Tavex can deliver to customers kilograms of gold within 24 hours and almost any quantity in a week", says Dimo ​​Stefanov.
The most sought after physical gold products traded by Tavex customers internationally are 100-gram ingots and 1 oz (31.1 gr) coins. In addition, among smaller investors there is a great interest in 20-gram gold bars. The situation is similar in Romania.
"The margin between the purchase price and the sale price is somewhere between 3-4%, which is a very important advantage for customers. Physical gold products are considered less risky for the investor portfolio, but unfortunately, there are many investors who think about such transactions only in times of crisis. We recommend our clients to invest in physical gold when no one is talking about the price of gold or when the economy is booming. Otherwise, if you want to buy when the crisis has already hit, prices will already be very high, due to lack of liquidity in the economy. Tthe crisis triggered by the pandemic has brought other challenges, such as those related to transport. For example, in Bulgaria, where we have been on the market for 10 years, we had to rent charter flights to import the gold requested by our customers ", explains the Tavex official.
Globally, the Estonian company has over 2 million customers in its portfolio, and last year it sold over 5,500 kg of gold, compared to 3,300 kg in 2019. In terms of profit, the figures for 2020 are estimated at a level similar to 2019, when the total profit was 9.6 million euros. For Romania, where the company is still at the beginning of the road, the Estonian group estimates an increase of up to 5 times in sales this year, compared to 2020.
Tavex Group was founded in 1991 and has established itself over time as a market leader in precious metals and foreign exchange in Northern Europe, serving about 2 million customers annually. Through the webshop, Tavex is available 24 hours a day. The company has a team of over 250 specialized employees who can provide details about precious metals or currencies. Tavex regularly organizes seminars on gold investments, in which local and international specialists speak. The precious metal refineries with which Tavex collaborates are: The Perth Mint (Australia), Valcambi (Switzerland), Austrian Mint (Austria), China Great Wall Coins Investment (China), Heraeus Group (Germany), A-Mark, Italpresziosi (Italy ), Instanbul Gold Refinery (Turkey). In Romania, Tavex has three offices, all in Bucharest.