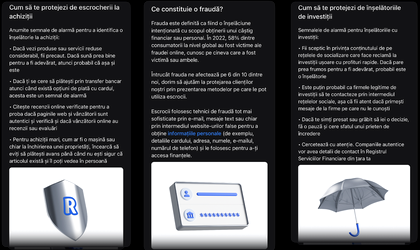 Revolut, the global financial super app with more than 30 million customers worldwide of which 3 million in Romania, has today announced the launch of a new free in-app course designed to teach everyday people about scams and empower them with tools and techniques to help keep their money safe.
Rising risk of fraud
According to the latest data from GASA (Global Anti-Scam Alliance) more than €50 billion was lost to fraud globally in 2021 and new research by Revolut suggests that consumers in Romania are increasingly exposed to fraud and scams.
Research commissioned by Revolut and undertaken by Dynata has revealed that 83% of consumers have noticed a rise in online fraud and scams with 38% admitting to personally falling victim in the last year alone, and 41% knowing someone who has. Only 17% of the respondents said that they did not notice an escalation of the frauds.
Despite the ubiquity of fraud, consumers are still in the dark when it comes to ways to prevent and protect themselves from scams and fraud.
According to Revolut research, 25% of consumers feel very confident in their general ability to spot a scam and 11% not at all confident. The majority – 65% – consider themselves somehow confident in their capacity to spot scams. What's more, 13% of consumers reported never having heard of a social media scam, 21% reported that they immediately spot a false advertisement on social media, while 66% think they could identify such a misleading campaign on social media, if they investigate it really carefully.
Revolut is taking a novel approach to raise awareness of scams with its customers with the launch of its new course.
The course, available for the app versions starting with 9.22, will include five lessons: an introduction to fraud, purchase scams, investment scams, impersonations scams, and account takeover fraud, and has been developed by Revolut's in-house fraud experts and covers the most prevalent types of fraud.
Each lesson will include materials explaining the different types of fraud, how customers can protect themselves, and share examples of how these scams can take place, drawing on real-life examples. Customers can then test what they have learnt, completing the lesson.
The course is free and can be accessed in the Revolut app by heading to Home > Hub > Learn (Romanian version available).
"Through the launch of our new fraud educational course, we aim to use education to empower our customers to feel more aware, more in control and better armed for action to spot criminals when they come across them online, on social media or over the phone," said Aaron Elliott-Gross, head of Fraud and Financial Crime at Revolut.
Revolut invests heavily to protect customers, with more than a third of its workforce working in a financial crime related role. The bank analyses every one of the transactions its customers make every month for signs of fraud, and when its fraud model detects a scam risk, it intervenes and warns the customer.
"Revolut works hard to protect customers from scams. We analyse every one of the 500m transactions our customers make every month for signs of fraud, and when our fraud model detects a scam risk, we intervene, hold the transfer and warn the customer. Customers also play a vital role in protecting themselves from scams and our new Fraud Learn course aims to help them spot a scam when they might be experiencing one. If you are unsure and you see one of our warnings; heed them and don't complete the transfer," adds Aaron Elliot-Gross.
What would an average Romanian do if he or she falls victim to a scam?
The research also revealed that one out of five Romanian respondents know exactly what to do in case they are victims of a fraud and 16% have no idea of the steps to be followed. 50% of the customers replied that they would freeze their cards directly into the digital banking app in case of fraud, as the first measure to be taken, in such eventuality. 20% would notify the Police and the authorities about the incident, while 18% would firstly inform the banking institution who issued the card.
Almost 6 out of 10 Romanians think that their actual bank is innovating a lot in the fraud awareness and prevention domain, but 33% of the respondents are not sure of the innovation their banking service puts in this respect. 10% of the participants in the survey are definitely not satisfied with the innovation brought by their actual banking providers when it comes to fraud prevention.
Romanian respondents feel particularly vulnerable to fraud and scams: on social platforms (56%), when shopping online (for example, when money or information has been shared through a fake website, email or link, 52%), to sms scams (44%) or mobile phone scams copying a company's identity or logo (34%).
And last but not least, 61% of the respondents said they would prefer to use digital banking technologies with smart tools for fraud prevention, while 30% would still opt in for a traditional bank with brick and mortar presence, for an easier access to a person that might help in case of fraud. 9% of the respondents are still unsure or undecided about the best solution.
Regarding the tools that financial service providers should use to better protect customers from fraud, Romanian respondents mention: card/account control systems, with the choice to immediately block the card or account (34%), customer fraud education and awareness (33%) and banking/financial technology such as fraud risk warnings/push notifications (20%).