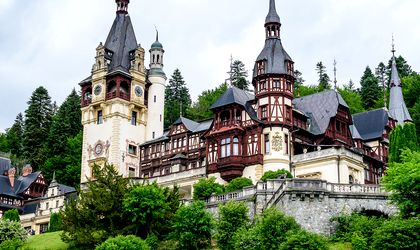 The Peleș National Museum and Alpha Bank Romania provide tourists with the complete payment solutions that improve the experience of access to the museum, while until recently the only payment method available was cash.
Thus, the Peleș National Museum now benefits from Alpha Bank POS terminals, through which cards issued under the most important payment organizations in the world – Visa, Mastercard, American Express, UnionPay – can be accepted at the ticket sale points of the Peleș and Pelișor Castles, as well as in the gift shop.
The Museum also facilitates the visitors' access through Alpha Bank Romania's digital service, as from now on, the visitor can buy online tickets directly on the museum's website www.peles.ro. Moreover, on the same website visitors can now purchase books online published by the Peleș National Museum, under the section "Librărie" (Bookstore) (www.librarie.peles.ro). Tourists visiting the Peleș Palace who need cash for future shopping in Sinaia resort have access to an Alpha Bank ATM installed in the museum's premises, as well.
"At the beginning of this year, the Peleș National Museum, through Alpha Bank Romania, started the digitalization process, thus increasing the quality of the services offered to its public. The openness and swiftness which Alpha Bank Romania representatives showed in fulfilling the museum's requirements, by providing the tourists who crossed the threshold of the Peleș and Pelișor Castles with complete payment solutions, made the visiting experience extremely pleasant, thus aligning the Peleș National Museum to international standards", said Narcis Dorin Ion, Manager of the Peleș National Museum.
—
"We are pleased to support the digitalization program of the Peleș Museum, one of the most valuable architectural monuments in Romania. It is an initiative through which we want to improve the experience of visiting this European cultural heritage site, providing tourists with complete payment solutions. We are continuing to support culture, as we consider it essential for the development of society, while remaining consistent with our commitment to offer an improved, simple, fast and safe payment experience", said Tiberiu Mercurian, Marketing Manager, Alpha Bank Romania.