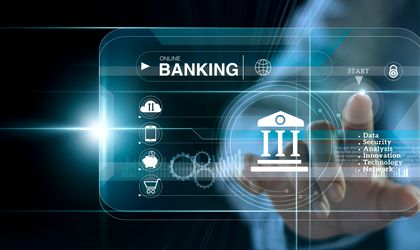 Analysis from leading global management consulting firm Kearney has found that has 21% of Europeans in 2022 never visit a bank branch and carry out their banking remotely – a figure that almost doubled in the pandemic, rising from 12% in 2019.  
Now in its 13th year Kearney's European Retail Banking Radar is an annual analysis of the pan European banking market, leveraging survey and proprietary data from 89 banks in 21 countries across Europe.
The growth of digital channels is clear: 55% of Europeans prefer to research their next bank account or card online; 49% when it comes to savings and consumer finance; and 46% when looking for a mortgage.
This has a notable effect on physical interactions, as 21% of Europeans in 2022 declare that they never go to a bank branch and 26% claim to visit a branch only once a year. However, the research also found that a small core of consumers (21%) still visit a physical branch at least once a month, showing that European banks must maintain a delicate balance between investment in digital and physical channels, especially leveraging the role of their advisors.
The financial products that consumers most frequently prefer to purchase through digital channels are transactional products (48%), savings products (45%) and consumer loans (43%). However, 61% of consumers would choose to sign-for mortgage products in person, showing that face to face advice is still important for many consumers, particularly for larger or more complex products. Indeed, mortgages experienced the most significant drop in digital preferences between 2021 and 2022, falling from 47% to 39%.
Despite the importance of personal interaction, the continued growth of price comparison websites and embedded finance poses a challenge to banks' traditional role in the ecosystem, threatening both the ownership of their customer relationships and their revenue streams.
The data shows that this disintermediation may be first seen amongst middle-aged consumers. The number of 35-54 year-olds who never go to the bank has almost doubled over the course of the pandemic, with 25% now completing their entire banking business through digital channels.
Further findings include:
Products that consumers most prefer to purchase in digital channels are transactional (48%) followed by savings (45%) and consumer loans (43%).
Across all European markets, 37% of all respondents who have used Buy Now, Pay Later (BNPL) have used it from a non-bank provider, while 47% have leveraged this option from a traditional bank
UK and Germany lead the way for BNPL outside the banking sector with 80% being delivered alternative providers, which are now a growing threat to retail banks
Simon Kent, Global and Europe, Financial Services at Kearney, comments:
"Banks have already made a strong commitment to becoming digital first – both in terms of customer interactions and daily operations. However, considering the continuous pressure on costs, they need to carefully prioritize their digital investments, understanding which part of the customer journey should be fully digital across all channels.

The role of banking professional as advisor is important to many consumers, so offers a chief advantage over the digitally native neobanks. Here retail banks have the benefit of experience, so can offer the best of hybrid digital-physical channels"
Daniela Chikova, Partner at Kearney, comments:
"The data we've compiled in this year's Radar makes it clear that a growing priority for banks must be to develop end-to-end digital capability across all products, making them intuitive and easy to use while offering new services to compete with digital native neobanks.

Progress needs to be quicker and not just for simple journeys like opening a current account, but considerations around physical presence and consumer preferences cannot be discarded in the name of onward progress. A careful balance is needed for the years ahead."