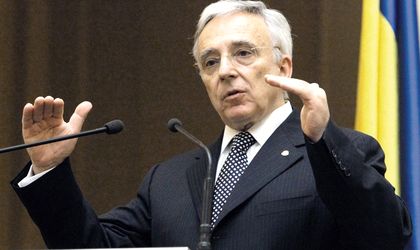 The Board of the National Bank of Romania decided today to keep the monetary policy rate at 2.25 percent per annum, after analysts expected a lift of the benchmark interest rate today to 2.5 percent.
Starting November 2017, NBR began raising the monetary policy interest rate, in steps of 0.25 percent, driven mainly by growing inflation. "NBR has since the beginning of the year shot fire twice on the policy interest rate front, driven by a fast rise in the consumer price index, which in February reached 4,7 percent, far above the upper bound of the targeted range", said Horia Braun-Erdei, Chief Economist at BCR.
"Hiking the rate three times in a row would signal to the market a strong hiking cycle potentially ending well above 3 percent at a time when the economy is showing some tentative signs of cooling or at least further advances in consumption, investments and exports are more uncertain given the slowing wage growth, the uncertain fiscal environment and a relative slowdown on industrial activity in the euro area", he stated.
On that note, Horia Braun-Erdei says that there is a stronger chance of a hike in May, at the next policy meeting. "A hike would have risen the risk of sending too pessimistic of a message before the numbers were necessarily going in that direction".
Other analysts such as Dragos Cabat said that it would have been better if the NBR had lifted the rate by 0.5 percent. "I would rather have had an increase of 0.5 percent because it would be a much stronger signal that NBR is aiming to stop the growth of inflation. Especially when there are so many influences from fiscal policy and growing wages; a bold move by NBR would have blocked the expectations of further hikes of inflation", says Dragos Cabat.
The evolution of the inflation will, in the next months, be one of the most important issues concerning the policy rate. In one of his latest public appearances, NBR's Governor Mugur Isarescu said that inflation is showing signs of slowing down and it should go down in the second part of the year.
The National Bank also decided to leave unchanged the deposit facility rate at 1.25 percent per annum and the lending facility rate at 3.25 percent per annum, as well as to maintain the existing levels of minimum reserve requirement ratios on both RON- and foreign currency-denominated liabilities of credit institutions.