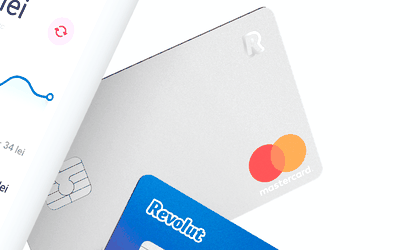 Revolut, the global financial super app, marked its 5th anniversary in Romania, its first market by the number of the retail customers, in the EEA, and the second largest globally, after the UK.
Since its launch, when Revolut offered peer2peer instant transfers between its customers and foreign exchange services, the challenger digital bank in EU became a provider of one of the most popular inclusive primary bank accounts in the Romanian market. Over 70 features and products were proposed to the customers, from rewards and perks to saving accounts, from lifestyle features like Stays to investments in commodities (capital at risk) and cryptocurrencies, from a travel app to a bank account for the Romanian customers allowing them to pay like locals in more than 150 countries.
Revolut's contribution to the Romanian digital economy
Given the increasing popularity of the digital bank in Romania, Revolut reaches today a high adoption rate among the active population in the local market (34%) and a strong customer base in the main cities in the country:
Bucharest – 540,000+ customers
Iași – 100,000 customers
Cluj-Napoca – 92,000 customers
Timișoara – 75,000 customers
Constanța – 68,000 customers.
Initially, the financial super app was appealing mainly for the younger generation, the so-called digital natives from Generation Z and Millennials, using it mainly while travelling and for payments to ridesharing companies like Uber, Bolt or the local public transportation. During the pandemic, while the trust of the population in digital payments methods boosted, the Revolut customer profile in Romania also evolved, attracting more mature Millennials and Generation X representatives.
What is the actual customer profile of a Romanian retail client? The average Romanian customer is a man living in a medium or a big city, belongs to the 25-44 y.o. range (52%), makes at least 144 card transactions per year with Revolut to pay for day to day consumer goods and services, utilities, travel, transport, entertainment. An average Romanian customer spent over 3,610 euros with Revolut in the last 12 months and, in the same period, the total amount spent with Revolut by the local customers increased by 15% compared to the previous 12 months.
In time, the use case of Revolut app and cards evolved from a travel financial companion to a primary bank account used by the Romanian customers for daily money management needs and personal budgeting. In top 10 merchant categories, by the total volume of payments made with Revolt in the last year, can be found grocery stores and supermarkets, cafes and restaurants, service stations, hotels and motels, fast food restaurants, family clothing stores, general merchandise, electronics stores, travel agencies and tour operators, utilities.
All these merchant categories totalised payments of over 1.7 billion euros made by Revolut users in the local market, showing the strong contribution of the digital bank to strengthening a digital cashless economy in Romania.
Moreover, in times of high inflation, Revolut supported customers with new responsible products and benefits like the cashback offered to the Shops users and to freelancers and gig workers using Revolut Pro, the responsible personal loan with fixed interest rate for the entire period of the loan and no fees, or the Joint Accounts. In order to increase the financial literacy of the customers, Revolut conceived and included in-app educational content like Learn & Earn for the crypto enthusiasts and the courses on trading, for the users willing to diversify their knowledge on investments.
Gabriela Simion, General Manager Revolut branch Romania, commented: "We've evolved from a trusted travel card to a global supper app. We built an ecosystem of financial products – with a bank account at the core of them – to help the customers make the most of their money. Whilst becoming a digital bank, we actually contributed to the financial inclusion of hundreds of thousands of customers that previously lacked banking services. Today, our customers use Revolut to control their money both when it comes into their account and when it goes out of it, whether they want to make it grow or save it. In just a few taps, our customers can rely on our super app to cover everything from regular essential payments (pay their rent, the bills, the taxes) to exciting and high involvement decisions (enjoy travel & lifestyle experiences, make their money grow).
We are grateful to the almost 3 million customers in Romania for their trust and for helping us to prove that Revolut has really disrupted the financial industry at scale, and revolutionised the way people approach their daily finances."
Andrius Biceika, Deputy CEO, Management Board Member at Revolut Bank (EEA), said: "Romania is one of the core markets for Revolut not only in the CEE region, but also in the EEA. We are thankful to the Romanian customers for their confidence and we are committed to providing them with even more diverse financial services. Our objective is not only to disrupt the banking industry, but also to increase the penetration of our state-of-art digital banking products into the regional market, helping the Romanian economy to be more competitive and the population to get as much as possible from their money.
Financial inclusion and generosity towards charities
Financial inclusion means not only easy access to financial services, but also helping the society as a whole to adopt high standards of living and a more responsible lifestyle. Revolut internal data confirms Romanians' generosity: in 2021 and 2022, Romanians donated approximately 1.5 million euro to the charities onboarded in-app, the third total amount by market. The donated amounts were 100% directed to the supported charities – 21 global and local NGOs being present in the Donations feature in Revolut app.
Social causes like the children's health, oncological patients' relief, refugees support, education and intergenerational liaisons, vulnerable population social inclusion, tech for good illustrate the diversity of the scopes of work of the partnered charities. Eight of the most reputable local charities were onboarded in the Donations section (Crucea Roșie Română, Dăruiește Viață, SOS Satele Copiilor, Hospice Casa Speranței, Fundația Regală Margareta a României, Hope and Homes for Children, Asociația Magic, Code for Romania).
Improving Romanians' financial literacy from early ages
Another product ranking in the top preferences among Romanian customers is Revolut <18. The product designed for young people comes with a free card and consists of a dedicated app and an extension of their parent/guardian's Revolut account, helping the kids and teens to start managing their money and become aware of the financial empowerment, while being supervised by the adult. Using end-to-end security and in-app card controls, young Revolut customers can safely track their activity in-app and get instant spending alerts to stick to budget and build healthy money habits, as well as setting savings goals.
Additionally, an instant notification is sent to the parent or guardian's phone when the <18 card is used. In Romania, more than 244,000 customers have a Revolut <18 account, and the monthly average allowance is 10 euro/ user. Parents can set up tasks and challenges consisting of different chores that kids must complete, the most popular ones being – to walk the dog, to keep their bedroom clean, to read every day or learn on Duolingo. The reward given by the parent for completing a task varies between 3 and 12 euros, depending on the difficulty level and the adult's evaluation.
A long term partner for companies of all sizes
Revolut's contributions to the local economy go beyond customer growth and the continuous improvement of services offered locally. Since May 2022, Romanian businesses have also benefited from the international expertise in payments and digital banking offered by our financial superapp. Revolut Business originally launched an offer consisting of 4 financial plans in the local market, including the local currency IBAN. In only 12 months, the number of the B2B customers has tripled (as of April 30, 2023 vs. April 30, 2022). Thousands of businesses in the local market, of all scales and sectors, have now joined Revolut Business, an efficient tool for integrated spend management, payments, cards and accounts across multiple currencies: all in one app.
Launched globally in 2017, Revolut Business has developed more than 20 products designed to empower businesses looking to more effectively manage their finances and has processed more than £110bn in transactions for its business customers to date.