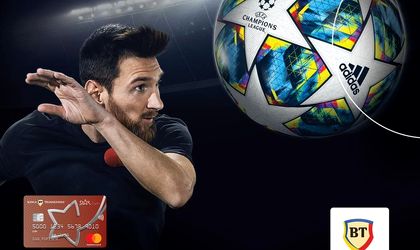 Romanian Banking institution Banca Transilvania released today a 20-second ad featuring Argentinian star Lionel Messi. The spot promotes a MasterCard credit card issued by BT and shows the footballer joyfully paying with it in a store and making online transactions while comfortably sitting on his couch. The spot is also set to feature on Romanian TV networks.
"Maybe you didn't believe, but this is for real. Messi just got his STAR Card from BT and pays everywhere with it. Uninterrupted shopping sprees all the way!" The description of the video posted on Facebook reads in Romanian.
One of the best footballers of all time, Messi, a six-time Ballon d'Or winner, is not the first sportsperson to promote Banca Transilvania, with Romanian Tennis player Simona Halep, a Wimbledon and French Open winner, also featuring in ads of the Romanian bank, including giant billboards in Times Square, New York.
Lionel Messi is one of the most sought after athletes in terms of marketing, having raked no less than USD 35 million from sponsorship deals in 2019. Born in Rosaria, Argentina, the 32-year-old has enjoyed an impressive career with Barcelona and the Argentinian National Team, winning a staggering 30 trophies with club and country, including 4 Champions League titles, 8 Spanish league titles and an Olympic Gold Medal. Nicknamed La Pulga, the Flea, for his relatively short height (1.70 m), Barcelona's number 10 has scored no less than 715 goals during his professional career which started in 2003.
Banca Transilvania, headquartered in Cluj-Napoca, Romania, was founded in 1993 and is the largest bank in Romania and South-East Europe, with assets totaling around EUR 16 billion at the end of 2018. With a capital of RON 2 billion, of which 79% Romanian, Banca Transilvania has over 7,000 employees and serves around 1.8 million customers.
Watch the ad here: