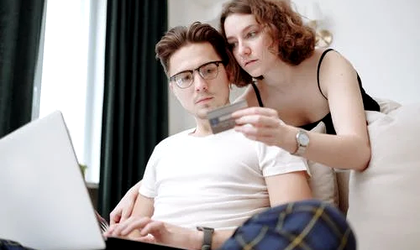 It's a common misconception that credit card companies exist purely to make you money. The truth is, they're in the business of making their own money and providing services to customers for profit. When it comes to bad credit cards, there are two different types: charge and revolving. With these cards (much like with any other type of loan) you're taking on debt in the form of a line of credit that starts with your purchase.
The best way to build your credit score is first to understand how it works. It's a three-digit number that was created by the Fair Isaac Corporation (FICO). Why do they have so much control over your financial life? Because lenders use FICO scores when deciding whether to give you a loan and at what interest rate. If your credit score is too low, the lender will reject you outright. Or they'll charge you a higher interest rate to borrow money.
Your FICO score ranges from 300 to 850. A good score is typically in the range of 700–720. These are considered excellent scores and it may be easier for you to get approved for a loan. If your score is above 700 and you have no late payments, the lender may give you a better interest rate than people with lower scores.
So what can you do to improve your score? Keep reading to find out.
How Do You Get Bad Credit?
There are a few different ways you can get bad credit, and it's typically all because of spending habits. For example, some people use their card to make large purchases on items they don't need without saving up the money first. This is called "spending more than you earn," which will eventually lead to them not being able to pay off their balance. It's also possible to run into trouble with card spending if you're a "saver," meaning that you typically spend on what you need and no more, but then something like an emergency comes up where your savings are depleted and there are no other funds available.
How To Repair Bad Credit?
Repairing your credit may seem impossible. However, there are tips and tools to help you get credit or fix bad credit. One of the tools you can use is credit cards for bad credit. These are fixed in a way that, once used responsibility, can help to increase your credit score. Of course, you'll have to fix prior bad habits before applying for one of these as they aren't a fix-all. You still need to work on other things to repair your bad credit. Follow the steps below to help you improve your current credit score. 
Step #1: Understand How You Got Bad Credit 
The first step to repairing bad credit is understanding why it got there in the first place. It's common for people living paycheck-to-paycheck or at risk of bankruptcy because they can't pay back their debts, to max out their credit cards in order to tide themselves over. These people are often unaware of the interest rates they're being charged and don't understand how much debt can add up over time.
Step #2: Understand How You Can Fix It
The next step is understanding what you can do about it, which falls into two categories: pay off your balances or work on repairing your credit score. Working with a credit repair agency can help you to improve your credit score by making sure that unpaid bills are brought up to date and debts are settled, while the best way to avoid debt in the future is not having any.
Step #3: Make A Plan Of Action
The last step is to make a plan. This should include what you want out of your credit score-perhaps you just need an emergency fund and don't care about the scores themselves, or maybe you're in search of a home loan and will do anything it takes to get one as well as how much time and money you can afford to invest into it.
Once you have your plan in place, you'll need to begin executing it. 
If you want to fix your bad credit, there are a few steps that should be taken. First, understand how you got it in the first place and why it's so difficult to repair. If you have unpaid bills or debts from maxing out your card for emergencies or if you just want an emergency fund without worrying about your score-credit cards with bad credit may help. You'll still need to work on other habits like not spending more than what you earn, which can lead to bankruptcy, but this is a good start! Following these tips and tools when applying for credit cards as well as making sure that all of those payments come up on time each month will go a long way towards repairing any damage done by past mistakes.