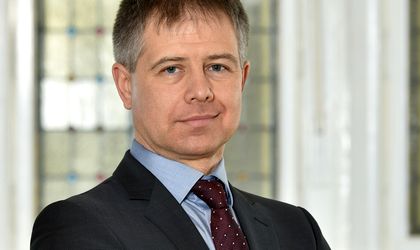 OTP Bank Romania plans to double its market share within the next five years, mainly by being more and more customer-centric, OTP Bank's new CEO Gyula Fater told BR.  
You are the new CEO of OTP Bank Romania, as of June. What is your experience and how have you found Romania – is it a good country for expats?
Before everything else, it's a beautiful country, I cannot wait to visit more of it. I think Romania is also good for expats. People are open, friendly, and ready to help, and many of them speak English, be it in an urban or rural environment. 
Professionally speaking, since most of the banking regulations conform to European norms, I've had no problem understanding the regulatory environment. I found a great team at OTP Bank, very competent, enthusiastic, and full of energy, not to mention ready to take on further challenges. Moreover, we are expanding, opening new branches, and the goal is to recruit colleagues worthy of our present team.
What are your targets for the bank?
OTP Group is now present in 12 countries and its services are used by more than 18 million customers. Insofar as Romania is concerned, the purpose of OTP Bank is to grow organically and to improve its client service. In the first semester of this year, we more than doubled our profit, reaching RON 53.6 million, our target for the entire year. The money we make will be reinvested according to a five-year strategic plan which we implemented to double our market share and asset size. The main tool is to be more and more customer-centric. We might be the only bank active in Romania that bets on the human touch. 
You said that OTP Bank plans to increase its market share to 5 percent long-term. At the end of 2018, OTP Bank was the ninth biggest bank in Romania in terms of assets, with a market share of 2.45 percent. How realistic is your target and how long will it take to reach it?
It's not an easy task, but what is? I'm with Nadia Comaneci on this one: "Life is not easy for anyone. You have to have ups and downs. You can make mistakes. You learn and try not to make them again. That's pretty much my principle." It is one that I share.
As far as our target is concerned, we have secured resources to fund and support this five-year program. We have already started to hire new colleagues and we have a very ambitious strategy that affects all the segments.
During the last couple of years, the Romanian banking sector has experienced a fast consolidation process, with unprecedented mergers and acquisitions. Is this process over?
I don't think the age of mergers and acquisitions is over yet. The increasing level of regulations and narrowing margins leads to consolidation. We are also ready to take part in that if there are available opportunities. 
Some experts say that the main challenge in the medium term for local banks is the incorporation of the Digital Revolution. What are the digital challenges for OTP Bank?
Going digital is not a challenge, but a daily imperative. Of course, it is not cheap and it requires resources, but there is no other option. Hence, as we speak, we're working on Apple Pay, a mobile app, as well as on several completely digital solutions. 
I think the biggest challenge for us, and for every bank, as a matter of fact, is to make the right selection among the many ideas out there that are trendy nowadays: which one is backed up by real customer demand and which one is only a widely used buzzword with no long-term impact.
What do you think about collaborating with fintechs: is OTP Bank open to this idea?
Not only are we open, but we are collaborating with them right now. Our approach is to manage this at group level, so we are working with the Innovation Lab in Budapest. Furthermore, this year there are a couple of fintechs from the region that were selected for further collaboration. We consider fintechs as potential partners, not enemies. 
Is the Digital Revolution a threat to employment in banks?
Not in our case. We don't go for digital or physical, but for digital and physical. I believe customers still need personal contact and in certain cases even more so since products are getting more and more complex. We are not closing branches, we're even hiring new advisors, and we're doing digitalization as we strengthen our physical presence.
You recently said that OTP Bank Romania will focus on lending to SMEs. What kind of SMEs are your targets?
We focus on servicing our clients, from corporate to private individuals. However, it is true that in SMEs (where we are quite strong) we also want to increase our value proposition to micro-businesses. But here the emphasis is also on full service, not only lending.
What are the main challenges when working with SMEs as a bank in Romania?
There are no specific challenges when working with Romanian SMEs. This is a tough market everywhere. Most banks target the larger SMEs since there is significant investment needed upfront, as in the case of retail. Whereas we also target micro SMEs.