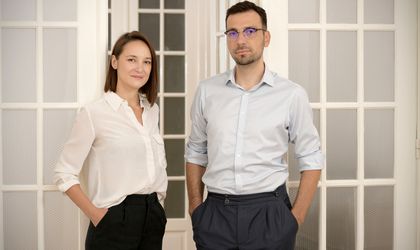 Bankata.ro, a fintech platform that aggregates and compares financial products, raised a funding of EUR 180,000 to develop and implement the business plan. The investment is coordinated by Sparking Capital, as Lead Investor, in partnership with private investors (business angels).
Bankata.ro is a digital platform that objectively compares all financial products available to customers in Romania. The platform currently includes information and analysis on credit cards, investment accounts, personal loans, and mortgages, and will shortly add to its portfolio the services of digital banks and international payment platforms.
Bankata.ro was founded by two entrepreneurs passionate about the financial industry, with over 10 years of experience in banking and investment portfolio management. Over the years, the team of founders has tested all the credit and money management products and has chosen to partner only with trusted and reliable financial partners.
Diana Seredenciuc, co-founder and CEO of Bankata.ro, began her career in the capital markets, and worked in financial institutions such as Swiss Capital, Citibank, Unicredit, and BCR. Subsequently, in Singapore, she laid the foundations of a similar digital platform Bankata.ro, which is currently the main partner of banks and the go to personal finance platform for Singaporeans.
"Our main goal is to help Romanians build healthy financial portfolios by adopting products that best suit their financial needs. The entire process of comparison and application takes place from the comfort of their home, without having to visit several bank branches to find the right offer. We analyze the benefits of the financial products, but we also check the fine print to ensure that all our customers receive all the information they need to make the best decision ", said Diana Seredenciuc, CEO of Bankata.ro.
Andrei Perianu, co-founder and COO of Bankata.ro, with over 10 years background in banking, worked in Citibank and Raiffeisen Private Banking, as a Wealth Manager.
"We are happy to announce a new investment in a motivated and ambitious team, with significant experience in the banking and financial spectrum. Bankata.ro complements Sparking Capital's portfolio in the fintech area and has the potential to change the way consumers interact with products in this industry. Together with the founders, we are working on an accelerated development and expansion of the product in Romania and the CEE area", said Cristian Negruțiu, Founding Partner Sparking Capital.
—
In the upcoming period, as a result of the attracted investment, Bankata.ro's team will focus on developing new partnerships with the Romanian financial institutions that have the best offers. "This way, users have access to the best products directly from our platform. At the same time, we want to compare new products, such as independent transfer and foreign exchange platforms. Bankata.ro was designed to offer a dynamic interaction based on the particularities of consumers offering a tailor-made solution. The information analyzed is constantly updated and impartially compared by our team. The funding from this round is mainly directed towards IT development and marketing efforts in order to ensure a fast and sustainable growth of our platform ", says Andrei Perianu, COO Bankata.ro.
Bankata.ro is addressed to Romanians looking for a digital interaction with financial products, introduced in an impartial and friendly language. Also to those looking for a credit card, mortgage or consumer credit that want to be sure they apply for the offer best suited for their needs, whether we are talking about great interest rates, lower fees or how quickly the loan is approved. For those customers, Bankata.ro is constantly verifying and comparing all the products in the market.
Bankata.ro also offers those who want more for their savings the opportunity to compare investment accounts and trade stocks, mutual funds, ETFs or bonds through a reliable broker with low commissions.