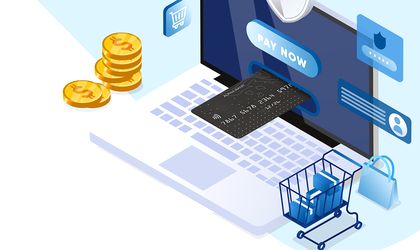 Alpha Bank Romania, a financial institution recognized for introducing innovations in the local market in the field of payment services (Tap-To-Phone, Instant Money Back, Instant Disbursement, etc.), announces the launch of the card tokenization functionality, integrated in the card scheme systems (Mastercard MDES, VISA VTS).
Compared to other tokenization solutions, the solution integrated into the eCommerce Alpha Bank platform improves transaction security by replacing sensitive card data with an EMVCo token.
Being the first platform with this functionality introduced in the local market, Alpha Bank will allow merchants and payment integrators to instantly update client cards, enrolled at account level, when they are renewed. Thus, the payment process is simplified, and the impact on optimizing transaction approval rates is immediate. In addition, the option allows the visual capture of the card in order to facilitate quick identification by the holder, especially when they have several cards enrolled in the merchant's account.
"The new functionality developed in partnership with the local processor Romcard, provides an improved eCommerce experience to online merchants – especially for those using a recurring payment service (for example, invoices, subscriptions, etc.) – and at the same time, to cardholders who no longer have to worry about updating the card data at each merchant ", declared Viorel Vasile, Cards Unit Director, Alpha Bank Romania.
—
"In recent years, more and more consumers are choosing to save their card details in the customer account of merchants, in order to ease the payment process for on-line shopping. With Mastercard Digital Enablement Service, users benefit from an improved, easy and secure purchasing experience, while for merchants this service minimizes fraudulent transactions and related costs, while improving transaction approval rates. We are pleased to announce today the integration of this service into the eCommerce Alpha Bank platform", declared Radu Ionescu, Product Management Director, Mastercard.
—
"The tokenization technology — whereby card data is encrypted to make digital payments more secure — is essential for the protection of basic account information against fraud attempts. In its mission to help secure digital payments and accelerate innovation in e-commerce, Visa has doubled the number of tokens issued in a single year globally, reaching the 4 billion milestone, exceeding that of Visa cards in circulation globally. The remarkable increase in token payments reinforces the idea that the future of money is indeed digital. Together with our partners at Alpha Bank, we are excited to provide access to a cutting-edge technology to traders and consumers in Romania, who can enjoy such benefits as safety and ease of use", declared Elena Oprea, Acquiring & Acceptance Director Visa Romania, Bulgaria, Croatia and Slovenia.