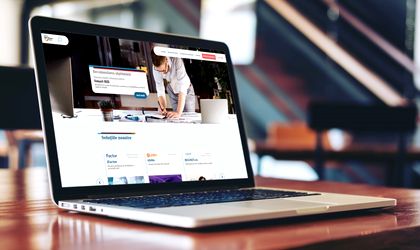 Banca Transilvania launches BT Store, an online hub for introducing complementary banking solutions for entrepreneurs. They are designed for business management and management and address their real needs – from billing and primary accounting to cashflow management and recruitment.
BT Store is an approach to entrepreneurship from banks. The starting version presents ten solutions dedicated to SMEs with which Banca Transilvania has gone on the road in this project, offered by Smart Bill, Blugento, eJobs, Private Health Network Queen Maria, Ebriza, ThinkOut, Calendis Business, REGnet, DocAv and iFactor . The platform will be complemented with new ideas, partners and offers to respond first to the key challenges in the entrepreneurial area, ultimately meeting the needs of a SME business.
"BT Store will become the meeting place for those who dream, launch and develop solutions of every kind for entrepreneurs. It will be a large display case for SMEs. People with ideas meet with our Digital Transformation team so their solutions can have a broad, immediate exposure – because most SMEs are here," says Tiberiu Moisă, Deputy General Manager, Banking for SMEs at Banca Transilvania.

"We see the challenges that entrepreneurs face day by day, so we wanted to make it easier to solve as many of them as possible. Having access to a range of innovative, digital products that solve real problems, we have created the BT Store, a platform for these ideas to reach as many BT customers as possible with entrepreneurship," says Daniel Szekely, SME & Microbusiness Coordinator at Banca Transilvania.