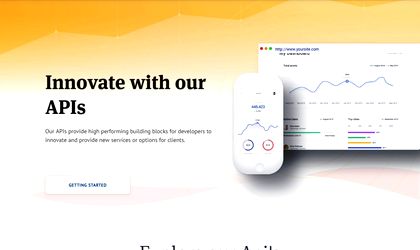 Banca Transilvania has launched the BT Open Banking platform (BT Api Store), which allows fintechs and other technology companies to test integration with BT to present bank services, such as: online balancing, transaction history, and the initiation of transactions through external platforms to Banca Transilvania.
PSD2 is a first step towards Open Banking and is a mandatory European directive for the banks in Romania, in the direction of the significant development of banking services. This implies the creation of a single market for payments at the EU level, facilitating new market access for new and other industries, creating a platform for SEPA payments, and protecting consumers' right to make payments.
"Open Banking is the new way to make banking. We now have the opportunity to integrate other players into the BT ecosystem, such as fintechs, which will bring a superior digital experience for customers, and new ideas can be implemented much faster than before. Fintech helps us keep up with new challenges and requirements, with new technologies, but also with the competition coming from other sectors," says Mariana Chindris, Digital Transformation coordinator at Banca Transilvania.
The testing stage will continue until September, after which the final version of the platform will be launched. In the coming months, the bank will add other services. The BT Open Banking project was fully implemented by the IT and Digital team of Banca Transilvania, in collaboration with solution providers IBM and IT Smart Systems.
Banca Transilvania has experience in collaborating with fintechs, bringing customers a series of financial solutions for better money management and entrepreneurship support:
BT collaborates with Personetics, a market leader in cognitive banking applications, to provide a superior digital experience to BT customers by including artificial intelligence into its services. The cognitive banking application offered by Personetics will be integrated with the bank's new Internet Banking and Mobile Banking, which will be launched in the first half of this year.
BT has become a shareholder of Timesafe, the Pago developer, the only Romanian application that can be used to pay utility bills with the card from a single account.
Transilvania Bank's partnership with Ebriza, BT being the main investor in a EUR 300,000 funding round launched by BT. Ebriza digitizes business management and totally transforms what now means a cash register, sales and management software: they will be accessed online, non-stop, on any device, tracking real-time business activity, stocks and sales.
Collaborating with Blugento, a company specializing in providing eCommerce solutions, so that entrepreneurs can open their own online store within a maximum of 3 days, based on a monthly subscription.
BT's partnership with Smart Bill, the leader in the online billing and management solutions market that provides a business-friendly solution for issuing, delivering, collecting bills, notices, proforms, receipts, inventory management, etc.