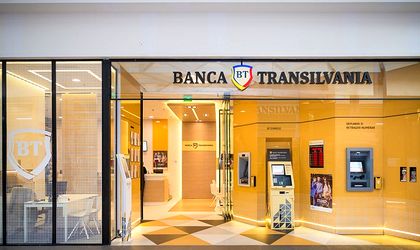 Banca Transilvania is taking another step towards digitization, this time for its team, through the integrated use of UiPath (RPA – Robotic Process Automation) and Druid (enterprise chatbots) platforms. Over 7,000 BT employees will be able to interact naturally with artificial intelligence through guided or natural conversations using NLP (Natural Language Processing), finding support in day-to-day work.
As a result of collaborating with UiPath, the global leader in RPA and Druid, Banca Transilvania has a new member in the Human Resources Department, a robot that helps employees with information through chat. BT wants to use the benefits of artificial intelligence, including for its team, after launching for the first time in the communication of Romanian banks, two chatbots, Livia and Raul, for providing online information to the bank clients, both retail and companies.
"After launching the two chatbots that help us provide non-stop customer information, we are happy to come up with solutions for the BT team too, in order to have more time for value-added activities. What brings collaboration with UiPath and Druid, businesses born in Romania, is a natural step we take to BT to grow a team of virtual employees who integrate innovative technologies and help the team in daily work," declares Ömer Tetik, general manager at Banca Transilvania.

"Such partnerships are based on the need for companies to be more efficient, to motivate employees and to reduce start-up times for new products and services," said Dragos Metea, CEO of Druid.

"I salute the visionary spirit of Banca Transilvania team, which decided to use Robotic Process Automation in the digitization plan since last year. As a result of the partnership between Druid and UiPath, BT employees will be able to interact with a chatbot daily – which brings us closer to accomplishing our mission, to make each employee available to a robot in the near future," says Daniel Dines, CEO and Co-Founder of UiPath.
Increasing employee efficiency and satisfaction
In the co-operation with UiPath that started in June 2017, Banca Transilvania automated so far several processes from different business areas such as accounting, audit, compliance, call center, human resources, etc.
"For one of the first automated processes using the UiPath platform, we managed to reduce the average execution time from 10 minutes (human user) to 12 seconds (with a robot) for an activity that runs roughly 500 times a day by colleagues. Starting from an automated HR process, we are now developing chatbots that facilitate collaboration between employees and robots, " says Gabriel Mocan, Director of Digital Technology and Innovation, Banca Transilvania.
From the need to interact directly with the robots, the collaboration with Druid, a company specializing in the construction of chatbots, was born. The implementation of the RPA platform from UiPath within BT and its interfacing with the chatbots developed by Druid contributes significantly to increasing the efficiency and satisfaction of the employees. Banca Transilvania proposed to increase the robots team in the future in several departments.