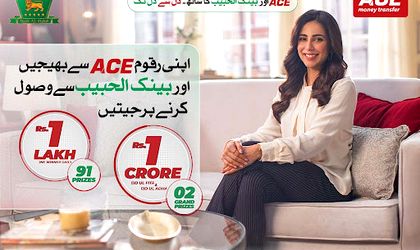 Looking for a way to send money to Pakistan while also having the chance to win big? ACE  Money Transfer and Bank Al Habib have teamed up to offer a spectacular opportunity! By sending money through their platform, you could be one of the lucky winners to receive two grand prizes of PKR 1 Crore each or one of the 91 prizes of PKR 1 lac each. Don't miss out on this exciting chance to send money to your loved ones and potentially win big! Keep reading to learn more about how to participate and increase your chances of winning.
What Is the Hype About? 
The ACE Money Transfer and Bank Al Habib campaign not only provides customers with the chance to win exciting prizes but also encourages using regulated channels for sending money to Pakistan. This ensures that transactions are secure and adhere to regulations. By utilising these channels, customers can have peace of mind knowing that their money is being sent safely while also having the opportunity to win significant cash rewards.
Rewards
Customers participating in the campaign have a shot at winning big, with 2 grand prizes of PKR 1 Crore each and 91 cash prizes of PKR 1 Lac up for grabs. The bumper prizes will be awarded on the two Eids, while a daily prize of PKR 1 Lac will be given away for 91 days starting from April 1, 2023, until June 30, 2023. These substantial cash rewards are a compelling reason for customers to opt for regulated channels while sending money to Pakistan.
Eligibility Criteria 
Customers must use ACE Money Transfer to send money from the UK, Europe, Canada, Australia, or Switzerland to qualify for the prizes. The recipient must receive the funds in Pakistan through any of Bank Al Habib's 1080+ branches. The transaction must be completed within the campaign period and sent through the two regulated channels to be eligible for the rewards.
Terms and Conditions of the Campaign
The ACE Money Transfer and Bank Al Habib campaign is a fantastic opportunity for customers to win exciting prizes by using regulated channels to send money to Pakistan. However, customers must follow specific terms and conditions to participate. 
The winners will be notified via email and/or call, and if they cannot be reached within seven days, they will be disqualified, and another draw will be conducted. It is important to note that the Company's decisions regarding transactions, draws, rewards, and processing are final and binding.
The winners can nominate someone else to receive the prizes on their behalf, and the company may use their personal information for promotional purposes. This offer is exclusively for ACE Money Transfer customers, and employees of ACE Money Transfer are not eligible. The prizes may be subject to tax implications as per local laws. 
The winners are responsible for any taxes due on the rewards earned from this offer under local tax laws. The company may delay a Reward for investigation or other reasons it deems appropriate. To learn more about the campaign ad schedules of the lucky draws, click here.
In A Nutshell
ACE Money Transfer and Bank Al Habib campaign is an excellent initiative that provides customers with a chance to win massive cash prizes while promoting the use of regulated channels for remittances to Pakistan. The offer is an excellent incentive for customers to use secure and compliant channels for their transactions, ensuring that their money is safe and legally compliant. 
However, it is essential to adhere to the specific terms and conditions of the offer to be eligible for the prizes. This campaign is a unique opportunity to send money to loved ones in Pakistan and stand a chance to win substantial cash rewards. So, if you want to participate, send your remittance via ACE Money Transfer and receive it in Pakistan through Bank Al Habib's 1080+ branches, and you could be the lucky winner of one of the many cash prizes up for grabs.