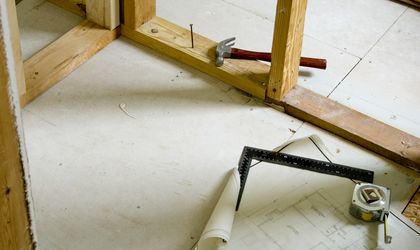 If your home needs remodeling, you may be thinking of how to finance it. Whether small or big projects, renovation needs money. It's impossible to make changes in a home without spending some cash. Things can get tough sometimes, and affording all the expenses becomes a struggle. When a financial tragedy strikes and you are required to fund the renovations, what's next? Worry less. Loan Advisor can help you make appropriate decisions if you think refinancing your home loan is the way to go. What if you don't consider that option? Here are the 7 ways on how to pay for small remodels
Owe yourself the fee
This option is for any homeowner in need of a home renovation but short of financial help. A small maintenance or repair project may not require an expert's assistance. The requirement is to know how to hold a hammer and fix the nails. And that's it. Fixing a door, window, or fence maybe some of the things you can do on your own. Such remodeling takes a few hours before its completion. You may have to buy the tools if you don't have them. But you wouldn't need to worry about that if you can borrow from your neighbor and return after completing your task. By the time sunset appears, you'll be done with your project, and you would have spent nothing!
Use your savings
Using savings for home renovations is a smart decision. You won't have monthly cutoffs nor face high-interest rates. It's even easier if you had set aside money for unplanned projects. To avoid spending your cash carelessly, consult your remodeling contractors, find out the total costs, and withdraw the exact amount. This approach will restrict you to take only what you need and leave the rest in the account.
Negotiate with your contractor
A secret every homeowner should know is that maintaining a clean relationship with the contractors you work with is essential. You may not know when your friends will be a big rescue. If there is a renovation team you have been working with for a long time, you can make a deal with them. Request them to solve your problem and allow you to pay a week or a month later. This option might be an epic fail if it's a company. But if you're an individual, you can negotiate to give you more time to get their payment.
Take a personal loan.
A personal loan is preferred if you need a small amount for the remodel. Ideally, the loan giver will expect you to repay in six to seven years. This is long enough to pay back what you borrowed. Compared to credit cards, personal loans have lower interest rates. You can borrow the money, finance your renovations, and payback in portion until you become debt-free.
Reuse what you have to get your desired remodeling
Small renovations don't have to involve getting rid of the old and replacing with the new. First, look at the condition of your things before remodeling anything. If it's furniture that needs a changeover, you can make slight changes to it until it fits your description. If you're not in the DIY league, you may have to pay a pro to do the tasks for you. Still, you'll spend less if you reuse your materials.
Earn the extra cash by renting your home
You're desperate to get cash to fund your home remodel, right? Renting your home for a few days can earn you enough money to finance the project. You'll be more privileged if your home is located near a tourist site or any busy town. There are several free websites for rentals opportunities. You can sign up with them and set your charges and the number of days you want the client to stay in your home. Before renting out, consult the landlord's policy to confirm if your intended plans are acceptable.
Sell your belongings and use the money for the repair.
If you have something that is of no importance in your home, sell it, and use the cash for your renovation journey. Getting rid of things that are not useful is already a step on its own because it creates more space in the house, which allows you to install more valuable remodels. Dispose of old furniture, appliances, and anything else that fills the room without having any use.
Use your credit card.
A credit card can help you finance. Yours remodels. It can be the best choice because most credit cards have reward programs that allow you to get bonuses. All you have to do is to make the payments in time and earn yourself the rewards.
What Should You Do Before Deciding on How You'll Pay for The Renovation?
Plan your budget
Home renovation is a big deal. It's essential to plan your budget before starting your remodeling. The first thing is to research the cost of the materials you'll use. If you work with a contractor, you'll need to find out how much it costs to hire him/her.
Consider how urgent it is
Most of the time, you'll find yourself making changes to feel satisfied. But what you should think about is if it'll add value to your home. When you have a tight budget, the only thing that should be in question is why you need it. If you realize you don't have a reason, then it's better to prioritize other projects.
Your repayment capabilities
Borrowing money is easy but paying it back something else. Go for options that you're sure you'll repay on time. Avoid loans that have high-interest rates. Also, make sure you only borrow the amount you need, don't take more than what is required. Doing this will protect you from having huge loans that you'll not be able to pay back.
The Bottom Line
A home renovation, including small remodel, is a money-consuming process. Keep in mind that most of them end up costing more than what you anticipated. So, ensure you have extra cash set aside for any emergency that will come up. Once you've figured out how you'll finance the project, you should now plan the contractors you'll hire, the design you want and finally begin the project!