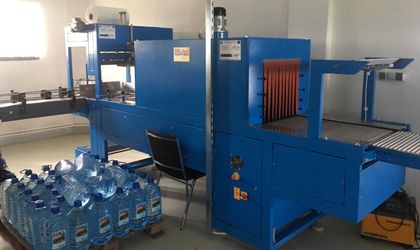 Business Review continues its #MakeItHappen campaign to promote Romanian entrepreneurship. So far, we have presented dozens of inspirational stories about Romanians who transformed their passions, hobbies and knowledge into successful businesses. We've revealed the stories behind domestic businesses, regardless of their sizes and the sectors to which they belong, because we wanted to highlight the diversity and creativity of the Romanian business environment. Through this campaign, Business Review and CEC Bank are strengthening their commitment to be the primary source for information and financing for Romanian entrepreneurial initiatives. The #makeithappen campaign continues with the story of Fântâna Mare, a mineral water springing from the heartlands of Moldova.
The entrepreneur who brought to light the marvelous water of Fântâna Mare tells her success story.
In 2009, Teodora Bendescu from Suceava invested all her resources in a business she discovered by pure chance.
"The story of Fântâna Mare started by chance. A friend had told me, among other things, to find out what kind of water springs from Dealul Temelie, a hill in Fântâna Mare commune, just a stone's throw from Fălticeni. I was curious and I went out to check the water, I took a few bottles and I tasted the water, then I took samples which I submitted for analysis at the Public Health Directorate. The results showed that the water had a very good quality. I sent other samples to a lab in Iași and the National Society for Mineral Waters in Bucharest for further tests. A friend in London who works in the industry also did some tests there. All results showed the water is very clean and this convinced me to invest." Recalls Teodora Bendescu, who at the time was already running two businesses, a brick factory, and a hostel.
It took 3 years from the moment she discovered the spring until the investment was launched.
"During the first year I built everything using my own funds and in the second year, I invested in electricity supply. It took more than half a year, with all the required approvals and projects." Said the entrepreneur.
She bought the land, built a production hall, and started purchasing the machinery. In 2010 she applied for EU funds and received financing, in partnership with CEC Bank.
"Then I hired 10 workers and we started bottling still mineral water in 0.5 and 2 liters, but sales were relatively small. After this, I bought more equipment to bottle mineral water in 0.5, 1.5 and 2 liters. In 2016, I invested in a new production line to bottle still mineral water in 6 liters, all financing coming from credits contracted with CEC Bank." Continues the businesswoman.

"For the first production line, the loan from CEC Bank helped us a lot, including with the purchases made before the EU funding came through. For the second production line, things got easier. We made improvements and added a smaller bottling line for 5 and 6 liters." She adds.
Today, investments in the Moldavia SRL company reach about EUR 1 million and the industrial capacity is around 2,200-2,500 bottles per hour. All bottling operations are automated.
"Miracle" water
Fântâna Mare water is rich in magnesium and helps in the proper functioning of muscle tissue, because this mineral is essential for the human body, allowing muscles to relax. Very often, the cause of muscle pain is a lack of magnesium. Also, it maintains performance. The mineral water is also very beneficial to your skin, thanks to high quantities of silicon dioxide, or silica, which consolidates the spongy tissue found between elastin and collagen fibers. Those who drink this mineral water will also notice a slowdown of wrinkle formation. Yes, this marvelous water maintains healthy skin, muscles, and even bones. Scientific studies revealed the importance of calcium from mineral waters, which helps in keeping a normal bone density, preventing bone diseases such as osteoporosis. The water source of Fântâna Mare comes from the base of Temelie Hill, pushed from 120 meters deep by pore water pressure and captured in two wells at the surface.
Customers' first impression
"It's hard to break into the market with a new product. Everyone is doubtful. People tend to think that bigger brands have the best products." Says Teodora.
But those who tried Fântâna Mare water have seen its quality and became loyal clients.
"We have clients coming from other towns like Piatra Neamț, Târgu Neamț, or Botoșani to buy our water once every 3 months. We were delighted to see this kind of appreciation for our water. People ask us to bring Fântâna Mare in their own towns because slowly our reputation is growing. 

After 5-6 years of sustained effort, we managed to sell Fântâna Mare water in Auchan hypermarkets, Lukoil gas-stations, and stores around Suceava, Botoșani, Neamț and Bacău counties." The businesswoman states with pride.
In 2019, the company's turnover is estimated at LEI 580,000 and the profit at LEI 14,000. In 2020 the company plans to purchase new equipment for a bottling line of natural fruit juice, made with the same Fântâna Mare water.