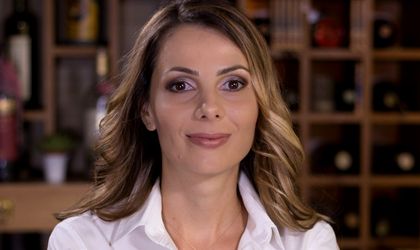 Business Review has launched a new campaign called #makeithappen. Every day, for a month, we will present 30 inspirational entrepreneurial stories of Romanians who turned passion, hobbies and knowledge into successful businesses. We will present the stories of entrepreneurial initiatives of all sizes in all economic fields, underlining the diversity and creativity of the local business environment. Through this campaign, Business Review is strengthening its commitment to be the go-to source for inspiring stories of Romanian entrepreneurship.
For Oana Pascu (38), an economics graduate who made a career working for 15 years for Connex and later Vodafone, the future could have been predictable. Instead, as she felt the need for a change, left behind the well-known path and found herself looking for the answer to a binary question: Should she leave the country and start off elsewhere or revive an old business idea?
After pondering on the idea for months, after an EUR 5,000 initial investment, three years ago she chose to become an entrepreneur and make her business idea a reality: setting up an online gift shop that offers not objects, but customised experiences. Having already been an accomplice in offering more than 100 gifts that range from the experience of creating your own perfume, flying in a flight simulator, and playing a game of tennis against former Romanian tennis player Victor Hanescu, the entrepreneur achieved an EUR 20,000 turnover last year and this year is expecting that to double. Furthermore, she is planning a future national and potentially international expansion.
Building on college dreams
The idea for starting a business making personalised gifts came about early, while she was studying economics at the Bucharest Academy of Economic Studies, Oana recalls. That is also the time when, aged 20, started working for telecom company Connex. "This was the real school for me, the professional environment in which I developed and grew, having in 15 years of employment 9 jobs from entry level to managerial positions, from execution to strategy, from customer operations to telesales, indirect sales and marketing," she recalls.
"I started www.complice.ro in August 2015, but the decision was taken with almost 9 months before after evaluating two proposals to leave the country," Oana explains. "The idea was quite at hand as I always enjoyed making special gifts to those around me: different, surprising, memorable, with a special message. When I was in college I even had had a thought "what if someone who has no time, no inspiration and no mood to search for the perfect gift would pay me to do it?!"But, for sure, it was not the right moment yet for this idea."
Almost 15 years later, though, things had changed: the market and the potential customers had evolved very much. "We as customers became more demanding, we had already bought most of the things we wanted, the online penetration was very high… so, while trying to find special gifts for the loved ones I spent a lot of time looking for memorable experiences and realised again that this was quite an unexploited potential," she says. "That is when I decided to take the chance to do something that I like on a niche that was full of potential: the area of experiential gifts. In particular because, from a cash-flow perspective, this idea offers a great setup for a startup: no stocks are involved and no payment recovery needed," she says.
Starting off small
The initial investment stood at EUR 5,000 but, once the business grew, both investments and the team expanded. "The initial investment includes all the spendings before the launch: initial www.complice.ro development, branding and office equipment," she explains. "After the launch, though, there has been a continuous investment in marketing and raising awareness, because we are a start-up, operating on a market niche. Many of our potential customers do not know this kind of service is available, and many don't even know how much they need one. So it's continuous work to deliver and invest in," the entrepreneur notes. "We are now a team of 5 people, working together to ensure the best experiences are delivered in a professional manner."
Betting on a niche market
When starting a business on a niche market, oftentimes you must learn as you go, and Oana's business was no exception. "The main challenge for us was to create the market, namely letting the customers know that they can offer experiences as gifts. Then, to make us known to our target. What I personally learnt was that, even if I started an online business, offline is critical for communicating and building trust," the entrepreneur says.
"What I also understood through experience was that the corporate sector is a very important segment for experiences, and for my business, has a huge potential," she notes. The customer she caters to is aged 30 to 50, has a busy and active life and works in a multinational or is an entrepreneur with a medium to high income. "Even if it's about rewarding a valuable employee, recognising the importance of a customer or of a business partner, trying to increase sales or to generate traffic, organising successful events or impactful team activities, the experiential part is the future. It is the one that will make the difference in a very competitive market, with high pressure. These experiences offered to the employees or business partners become essential to success, in retention and talent acquisition, or loyalty," she explains.
Gifting experiences rather than objects
By far, the best part about her job, Oana says, is "interacting with beautiful people, in their best moments. Our customers want to surprise someone important to them, so they are very open and constructive. On the other part, the one who receives an experiential gift is surprised, impressed, happy. And all these feed us with a great energy."
"Also, it's a good feeling to be the one who creates a path, an innovator, let's say, as precious as that may sound. But the idea that we are the ones showing the people –both individual and corporate – that gifts should not only be objects, but experiences, and that choosing a "perfect gift" is not a burden, it's great," she adds.
The most popular gifts are those containing tasting experiences, such as wine tasting, coffee tasting or 'make your own chocolate' workshops, the entrepreneur says. "This is because they speak to a lot of us, but also because they are recommended both for private and corporate clients. In addition, this year the private olfactory workshop was very popular for ladies, while the paragliding was popular for men."
As for her favourite gifts, according to Oana, two of the products she really wanted in Complice.ro's portfolio, are " the experience of spending one day in the non-commercial Airbus A320 flight simulator in Sofia that replicates faithfully the experience of piloting this airplane in real life" and "having your autobiography written by a professional ghostwriter after several interviews with the main character and some close friends or family. In the end, the result will be a printed book (or even manually written on vintage paper) that, most probably, will be part of the family library and will be inherited by the next generations," she explains.
Playing tennis with Victor Hanescu
A special section of the portfolio includes experiences involving well-known Romanian sportsmen. "Victor Hanescu was the first celebrity who accepted to be our accomplice and then we enlarged the portfolio with Marian Dragulescu, the Romanian gymnast with the highest number of medals won, Andrei Rosu, the famous marathonist that holds the world record for the fastest time of completion for 7 marathon and 7 ultramarathon circuits across 7 continents, Alex Filip, one of the best romanian rally pilots, and Alex Ciocan, probably the best cyclist in Romania."
Was it difficult to convince them to join such an original project? "No, not at all!," says Oana. "Each of the sport star that we collaborate with is, before a celebrity, a beautiful person, very communicative, very modest and with a high desire to give, to make nice gestures, to surprise and to inspire and these are important selection criteria for us."
Read other stories in our #Makeithappen series:
Painting your success path in business. The artist who turned pure talent into an entrepreneurship initiative
Cut the sugar! The cake shop in Iasi that makes healthier versions of all our favourite sweets