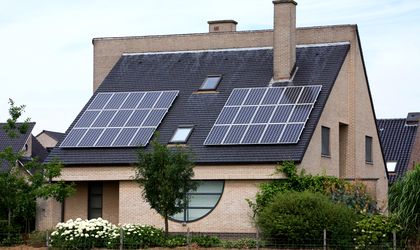 The concept of a sustainable home is relatively new, not only on the Romanian residential market, but on all markets, in Europe and elsewhere. British-certified BREEAM launched a scheme for homes only in 2016, and Romania's first residential project in the process of achieving green certification is Impact's Luxuria Residence, in Bucharest.
By Anda Sebesi & Razvan Zamfir
Meanwhile, developer United Properties uses the Romanian Green Building Council (RoGBC) system – Green Homes to certify its residential projects.
The RoGBC green certification system was launched in 2014 and was for several years the only option for developers who wanted to develop a residential project with green certification.eanwhile, developer United Properties uses the Romanian Green Building Council (RoGBC) system – Green Homes to certify its residential projects.
"There are also individuals, tenants, for example, who know what certification means and ask for it. BREEAM has just launched, in 2016, a scheme for the residential market. That's why many projects did not have certifications. Only now, with a valid scheme, will things change. I think there will be more projects certified in the near future, because this is a trend," Ravan Nica, owner of Buildgreen, told BR.
Green certificates measure carbon footprint and energy efficiency, which account for about 40 percent of the final report. They also evaluate the level of pollution generated by the building, drainage and water treatment systems and so on.
Green shoots
Amber Gardens is one of the residential projects whose developer, Alesonor, pays attention to green requirements. The project includes remote control of temperature, lights, surveillance cameras, solar panels for hot water, photovoltaic panels, an innovative LED lighting system, anti-freeze protection system, 90 percent reduced energy consumption compared to a conventional house plus other facilities that are expected to save EUR 50,000 in long-term maintenance costs.
Another example is Cartierul Solar. Developer Ad Astra Partners is building the first residential complex in Romania equipped with photovoltaic solar panels, which will help to reduce the living costs and carbon footprint of the buildings.
And the principle of sustainable homes will evolve in the Romanian residential market, say players, mostly on the medium-high segment, not only because some developers try to adopt trends, but because most buyers want to live in clean, green homes, and keep their living expenses as low as possible.
"The demand for sustainable homes has increased mainly when it comes to large projects which involve both engineers and foreign investors with international expertise. It is about residential areas or collective buildings," said Ioana Oncea, architect at Cubicular Design Studio. According to her, individuals with high and very high incomes are the main target for such homes at present in Romania.
As for the costs, Oncea says that if for a traditional 160 sqm home the investment starts from EUR 90,000, a more responsible attitude towards the environment, health, recycling and the effective use of natural resources increases the sum by at least 55 percent. "The price of a 160 sqm sustainable home can start from EUR 190,000 and can exceed EUR 500,000. It is difficult to estimate a maximum value of investment for such a home because everyone has their specific way to define the concept of luxury and furnishing," added the architect.
Principles of a sustainable home
Energy autonomy of up to 100 percent by using renewable sources: geothermal, solar, wind, and minimizing the losses;
Improving the quality of the air by natural ventilation of the home and cutting costs by using a heat recovery system;
Using local recycled materials like wood or stone;
Minimum impact on the local environment, encouraging walking by making connections with the public transportation network;
The orientation of the building depending on the cardinal points, natural lighting and planting broad-leaved trees.