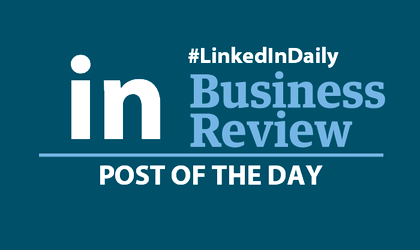 The LinkedIn Post of the Day is a category where we will be featuring the best daily LinkedIn update, which brings a positive, insightful, or otherwise constructive view in the context of the current crisis.
March 27-29 weekend: Nicu Tone, General Manager SIF Hoteluri Romania. His post reads:
Congratulations! Thanks to them, UPU Suceava works again. They didn't complain, they didn't take leave, they didn't quit, they went where they were needed. They took an oath and have a creed!
Dr. Tudor Merticariu – SMURD Iași
Dr. Cristina Popescu – SMURD Iași
Dr. Morosan Petruța – SMURD Iași
Dr. Hugianu Leonard – SMURD Iasi
Dr. Mihalovici Oana – SMURD Iasi
Dr. Cigoli Alina – SMURD Iasi
Dr. Corina Siminciuc – SMURD Iași
Dr. Cosmin Andrei – SMURD Iași
Dr. Ovidiu Popa – Iași
Dr. Popescu Cristina – SMURD Iași
Medical Assistant Vasileana Pavelescu – Iași
Medical Assistant Andrei Balint – Iași
Medical Assistant Lavinia Grigore – Iași
Nurse Gabriela Bejan – Tg. Frumos
Nurse Anisoara Turineac – Falticeni
Medical Assistant Elena Paval – Falticeni
Nurse Mariana Branzei – Suceava
Nurse Mariana Corina Istrate – Suceava
Medical Assistant Ecaterina Ailenei – Suceava
Medical Assistant Lăcramioara Nistor – Suceava
Medical Assistant Maria Horlațam – Suceava
Nurse Elena Herod – Iași
Nurse Rodica Dulgheru – Falticeni
Paramedic plt. Maj. Monoranu Ciprian
Marilena Cocîrlă – Volunteer ISU Suceava
Paul Marinescu – Volunteer ISU Suceava
Otilia Hrițcu – ISU Suceava Volunteer
Simona Rădășanu – Volunteer Adriana Cusnir – Volunteer