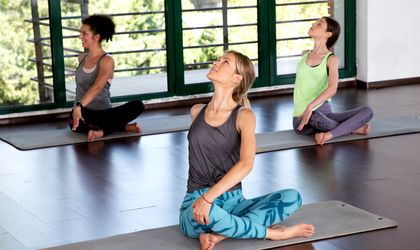 Whatever the reasons and outcomes of your everyday exercising are, one cannot deny its benefits for overall health. Most people take part in aerobic activity to improve their cardiovascular endurance and lose weight. People weight-train to fortify the muscles and get stronger. These reasons can be enough to get you moving to the gym and have enough motivation for the whole week and most of all, keep you healthy. But often people tend to forget another great element of a training program, which is stretching.
Flexibility training, which is often neglected, comes with great benefits: a greater freedom of movement and improved posture, increases physical and mental relaxation, it releases muscle tension and soreness and reduces the risk of injury. Some people are naturally more flexible than others, depending on one's gender, age, body shape, genetics, and level of physical activity. As we grow older, we tend to lose flexibility and that happens because of our lack of activity and because of age. It is a fact, the less active you are, the less flexible you become. But, as it happens with cardiovascular and muscle strength, also, flexibility will improve if we choose to train regularly.
And this is something you can easily take care of, if you just become a member of World Class, the biggest health & fitness network in Romania. From BODYCOMBAT to HIIT, from Yoga to Schwinn Cycling sessions, all you need to keep your body healthy awaits you in our clubs. We will get into the group fitness classes you can choose from a bit later, now let's see some more insights on that perfect stretching routine. It is important to reserve your time for stretching, no matter how much you hurry to finish your fitness class. Health is always first! You should allow at least 30 minutes, three times per week, for flexibility training. But sometimes five minutes can do the trick and are better than nothing to reduce muscle soreness. In all cases, any aerobic activity should be followed by at least a few minutes of stretching. Before you begin your stretching session, get some minutes just to warm up, because stretching stiff muscles may get you injured. You can start with a simple, low-intensity warm-up, like walking while you swing your arms in a wide circle. The general advice for people starting a workout program is to perform gentle but dynamic stretches before they go full swing and static stretches after the exercising session is done. When you perform a static stretch do not forget these simple rules to get you in perfect shape. Take a deep breath and slowly exhale as you gently stretch the muscle. Hold the stretch for 15 to 30 seconds, relax and then repeat the stretch several times. Remember that dynamic stretches should be led by a professional instructor for great results.
To make sure you always benefit from the best exercises and the best advices from a health and fitness expert, get your membership at the closest World Class club in your city. If you are a swimming fan, perfect, more than 30 pools are waiting for you all over the country. Many of the group fitness classes such as Yoga, Stretch or Pilates will help you stay in top shape and the World Class instructors are always glad to help with useful advice. For the best results, visit the World Class Romania official site, pick your favourite class and membership, and start living more healthy, more fit!