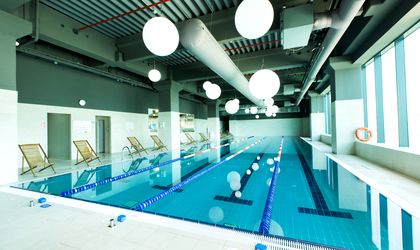 Premium equipment, semi-Olympic swimming pool, dedicated studios, and professional trainers – these are the defining elements of the new World Class club opened in Iulius Town Timișoara. The new location opened its doors on December 20th 2019, and is one of the largest health and fitness clubs in the country.
World Class has been active in Iuliul Mall Timisoara since 2006, and it expanded side-by-side with the transformation of the shopping mall into the mixed-use project Iulius Town Timisoara, becoming the largest center of its kind in Romania. With an area of approximately 3,400 square meters, the new concept can become one of the most sought after sports destinations in Western Romania.
The new center has innovation at its core, equipped with the latest Technogym fitness equipment, and a series of novelties such as a 25-meter semi-Olympic swimming pool, CrossFit area, or cycling and aerobic studios.
"We are opening in Timișoara one of the most modern and vibrant health & fitness centers in Romania. Our expansion in Iulius Town is not random, given that it is the largest lifestyle center in the west and its potential will help us advance our mission to inspire and motivate more Romanians to be more active more often and to adopt a healthy lifestyle. Through its strategic location, the new center helps us to be closer to the homes and workplace of people in Timișoara", says Kent Orrgren, World Class CEO.
The new World Class club in Iulius Town Timisoara is included in the Silver category and it is located in the new expansion wing of Iulius Mall, an integral part of Iulius Town. Its grand opening is also one of the strongest strategic moves of the World Class network in achieving its goal to expand the #BeHealthy movement.