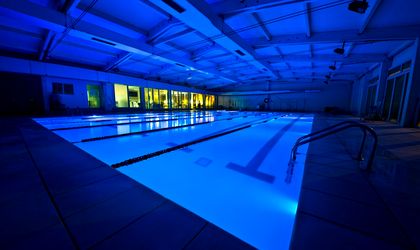 World Class Romania is continuously expanding its health & fitness network, taking important steps, with each new club opening, towards its core mission: to inspire, educate and motivate more Romanians to be more active more often. By making its premium health & fitness services accessible to more people, World Class aims to become people's third most important place to be in, after home and work. 
On November 28, World Class will open its 38th club in Romania and 29th in Bucharest, following the acquisition of Planet Swim & Gym club. The #BeHealthy Movement for More Movement initiated by World Class in 2018 has been growing stronger with each new member, each new participant to the World Class public health and fitness event and each new club opening in strategic locations, with large residential and corporate communities. 
"The acquisition of Planet Swim&Gym is a strategic step that takes us further into our mission. It has a very good location and the members will benefit from the support of a strong team of health and fitness experts. The club offers indoor and outdoor pools with a great relaxation area, making it ideal for families and also for after work wellness. We are strengthening our network and give more to our members by adding all the health & fitness services of Planet Swim&Gym.  The club did a very good work building a health & fitness community, being highly successful in its swimming offer for kids and attracting families to be active together. This club is an excellent match to our network and it will be our 38th health & fitness club. The new acquisition brings our services even closer to the homes and workplaces of more Romanians. In the near future we have new plans for extending our networks in strategic locations.", says Kent Orrgren, CEO World Class. 
Starting November 28, the club reopens as World Class Planet to offer members a premium facility with premium training conditions, innovative health & fitness equipment and a highly experienced team of health & fitness professionals. It will be a Gold Category club.
The former Planet Swim & Gym club had a history of 15 years and all its members will be automatically become World Class members with access to all World Class clubs throughout Romania, up to the Gold category. 
"Planet Swim & Gym is a club with a long history in Romania of over 15 years and a strong health & fitness community. I am glad that following this acquisition, the club's existing members will have access to even more benefits, more health & fitness clubs and an extended network of health & fitness specialists. I am confident that what we have built so far with Planet Swim & Gym will continue to grow and the result will be even more happy members who will choose a healthy lifestyle", said Alexander Fagiolo, owner Planet Swim & Gym.
 The three-level club will provide two aerobic studios for group fitness classes, indoor cycling, private studio for 1-to-1 training sessions, interior semi-olympic pool and also an exterior swimming pool and a summer garden with lounge area. Members will also benefit from the services of a beauty salon.
The location of the new World Class club is strategic, targeting an area with a high density of residential as well as corporate public. Located in Voluntari-Pipera, 1 Emil Racoviță Street, Voluntari, the club is another step into the World Class mission to make health and fitness services more accessible to more Romanians in order to help them be more active more often and enjoy better lives. 
The club is highly accessible and the members will be able to park their cars in the private parking place with 200 spaces. It will function Monday to Friday, 06.30-22.30 and Saturday, Sunday 08.00-20.00.
Photo by www.alexanderstudio.ro