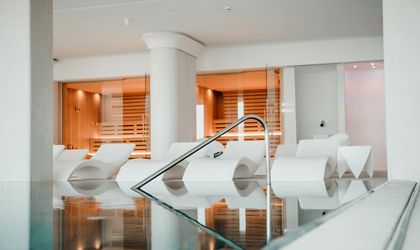 Novum by the Sea, part of the Novum Invest group and one of the most renowned resorts on the Romanian coastline, announces a new phase of expansion with the opening of a balneo and treatment center within the Olimp complex.
"This new €3 million investment in the MedSPA center underscores Novum by the Sea's continuous commitment to providing unforgettable experiences and high-quality services to its clients. By expanding the facilities and adding a balneo and treatment center, the resort becomes an attractive destination even during winter, offering relaxation, beauty treatments, and medical recovery services in an elegant and exclusive setting. This is a step forward in Novum by the Sea's strategy to extend the operational period of the complex and attract visitors throughout the year," says Alin Popa, CEO of Novum Invest.
The new balneo and treatment center, Novum MedSPA, in Olimp, perfectly complements the existing facilities, bringing an additional dimension of wellness and personalized medical care for guests of Novum by the Sea, who now have compelling reasons to extend their vacation beyond the summer season.
Equipped with state-of-the-art technology and offering a wide range of therapies and treatments across its 21 distinct treatment rooms, the balneo and treatment center provides innovative solutions to enhance health and well-being.
Guests will benefit from balneo therapies, including hydrotherapy, Vichy showers, therapeutic mud treatments, specific massages, and much more, all tailored to individual needs and preferences. The balneo and treatment center is managed by an experienced team of therapists who provide personalized therapeutic consultations and ensure a high level of service quality.
"Furthermore, within Novum by the Sea, we will soon begin the development of a premium residential project called Novum by the Sea Grand Resort – Your Extraordinary Home. This new initiative is a result of the success achieved by Novum by the Sea and our desire to further extend the luxury and refinement we offer.
The three residential blocks that will be added to our resort will be developed and operated to the same high-quality standards that our audience has come to know and appreciate. Future owners will have special access to the resort's facilities, including the newly inaugurated indoor pool and SPA, as well as the recreational and entertainment areas. The residential complex will include 408 apartments, 36 duplexes, and 465 parking spaces located across three underground levels. We aim to offer our guests the opportunity to enjoy an extended vacation in their own apartments, with access to all the facilities and services provided by Novum by the Sea," adds Alin Popa, CEO of Novum Invest.
Novum by the Sea continues to solidify its position as a leader in the luxury hospitality industry and aims to provide its guests with unforgettable experiences in an exceptional setting. The investment in the new balneo and treatment center showcases the resort's vision and commitment to meet its customers' requirements and expectations in an innovative and sophisticated manner.