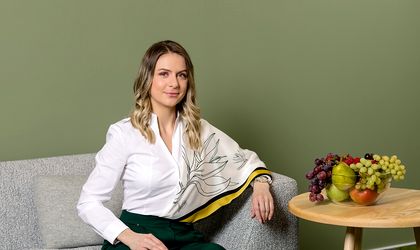 Nestlé reconfirms its commitment to improve the quality of life of people around the world and contribute to a healthier future by launching the first parent-to-parent healthy recipe book as part of Nestlé for Healthier Kids Initiative. The secret ingredient in children's nutrition is the example of parents and family. If the family eats healthy, in a quiet and loving atmosphere, the children will also eat healthy. A healthy relationship with food must be developed from childhood.
The Nestlé for Healthier Kids Recipe Book, made with the help of several parents and chefs, aims to show us how easy it is to prepare nutritionally balanced dishes with our children, involving them in the whole process, from purchasing ingredients to washing dishes. Nestlé for Healthier Kids Recipe Book contains the recipes of chefs and food bloggers Chef Sorin Bontea, Chef Ștefan Popescu, Greta Apostol and Larisa Sferle, who are also parents, the recipes of parents in their communities, as well as 56 recipes of the community of parents of the national movement ,,I live healthy, too! – SETS", a program included under the umbrella of the Nestlé for Healthier Kids Initiative. Each recipe is well structured and easy to follow even by those who have less experience in the kitchen, it has nutritional values and recommendations. All the recipes in the book are extremely valuable because they are simple, traditional and easy to cook with local ingredients, they are balanced respecting all categories of nutrients (carbohydrates, fats, proteins), and are made by Romanian parents for Romanian tastes.
Nestle for Healthier Kids Cooking Book can be downloaded here.
"Nutrition is very important both for growth and development during childhood, and for the prevention of diseases in adulthood. Nutrition influences our well-being, both physical and emotional. In Romania, the statistics show that 1 in 4 children are overweight or obese, only 26.9% consume vegetables daily and just over 42% eat fresh fruit on a daily basis. Most often, the imbalance occurs in the family, before the child is exposed to the influences of the external environment. A child learns from the examples seen in the family. We at Nestlé believe that healthy eating habits are formed from the earliest years of life and it is essential that parents provide their children with a proper food education. That's why we created several tools that help parents, such as NutriPorția and now the healthy and easy to cook recipe book with the little ones. We want this book to be a guide for parents in Romania and to help them make healthy choices for their children", says Nicoleta Tupiţă, Nutrition Health and Wellness Manager, Nestlé Romania.
Balanced nutrition at any age is defined by 3 basic elements: variety, adequate caloric intake and a correct distribution of macronutrients in the daily menu. After the age of 1, children can participate in family meals, they can eat at the same table with their parents. Thus, children acquire a healthy relationship with food, and parents must set an example for them.
The nutritional needs of children vary greatly depending on their age and stage of development. Accelerated growth of children in the first years of life must be supported by an adequate diet of both energy and nutrition. Given that children's needs evolve with them, following four simple steps, an age-appropriate nutritional plan can be established: assessing nutritional status, determining caloric needs based on age, ensuring variety in diet and setting portions.
"When you are a parent, the experiences of other parents can be of real use to you, because they are a source of inspiration for your child's daily menu or even a help for the more capricious, because they are tested, they are real, they come from other parents to you. Here we gathered together and we put on paper some delicious and healthy recipes, from parent to parent", says Chef Ștefan Popescu.
Studies show that there is a correlation between diet and school performance, taking into account the role of nutrition in the development of the brain at the beginning of life, but also cognitive functions. Thus, some nutritional deficiencies can affect children's ability to concentrate and memorize. Iron, vitamins B1, B2, B3, B6, B8, B12, folic acid, copper, iodine, magnesium, potassium, vitamin C, omega 3 fatty acids are nutrients with roles in the functioning of the nervous system5. Parents need to make sure that all these nutrients are present in their children's daily diet. Most of these nutrients are provided by a varied diet, which corresponds to the energy needs of children, they need energy to be able to concentrate at school. Breakfast is the first meal of the day and should contain whole grains, fruits, dairy proteins or eggs and healthy fats from nuts, fish or olive oil. Lunch and dinner should be just as balanced. Half of the children's plate should be filled with vegetables, a quarter with high-protein foods (meat, fish, eggs, dairy) and a quarter with high-carbohydrate foods (cereals, bread, pasta, rice, potatoes).
In 2020, in Romania, the Nestlé for Healthier Kids initiatives reached over 80,000 children and 2 million parents, teachers and the general public, both through educational programs that promote a balanced diet and a healthy lifestyle, and through efforts to innovate and reformulate Nestlé products in order to reduce the amount of added sugars, salt and saturated fats. In the communication campaigns of the NutriPorția and International Chefs 'Day projects, Nestlé reached over 2 million people, mostly parents, with educational messages.
Globally, Nestlé launched 1210 more nutritious products last year, reduced 60,000 tons of sugar and 10,000 tons of salt from 2017 to date and eliminated 10% of saturated fats, thus fulfilling the commitment made in 2014. added 300 million servings of whole grains, legumes, nuts and seeds to its products, and whole grains are the number one ingredient in all breakfast cereals for children and teenagers.
To support a healthier diet among Romanian families, Nestlé recently launched Nesquik All Natural cocoa with raw cane sugar and natural ingredients, Maggi Bio cubes, Maggi liquid food bases, Cheerios Bio breakfast cereals, Nesquik Organic and gluten-free Corn Flakes cereal bar. He also renewed the Maggi Ideea Zilei recipes, which now contain only simple ingredients, which we find in our kitchens. On the Romanian market, all breakfast cereals, except Corn Flakes, have whole grains as the main ingredient.
Learn more about Nestlé for Healthier Kids initiatives at www.nestle.ro/nutritie.
A.M. Filip