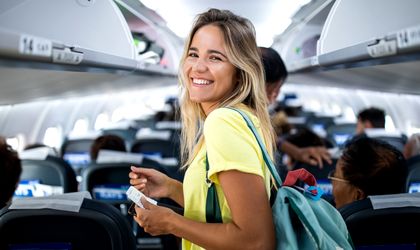 To celebrate the 10th anniversary of the International Day of Happiness, Kiwi.com, a travel-tech company, has conducted a survey* and asked psychologists to find out what it is that makes people happy when traveling. According to the survey by STEM/MARK, more than half of people plan their trips well in advance and more than half become happy just by planning their vacations.
For most of the people surveyed, across countries, the happiest travel experience would be sunbathing or swimming on a sunny beach.
"At Kiwi.com we believe one of the greatest freedoms we have is to choose where to be – to be free to discover and to explore. Travel brings unique experiences that can unlock a deep sense of happiness and we wanted people to celebrate that. That's why we asked our followers and others what are the moments and places they associate with happiness," said Andrew Parker-Blagg, vice president of Brand and Global Communications at Kiwi.com.
The survey confirms that more than half of respondents across countries plan their trips in advance so they have something to look forward to and talk about. This is true for 54% of Romanians. For 53% of Romanians just planning the trip makes them happy – especially for men – 61%, compared to 47% for women.
For 38% of Romanians, only booking their plane tickets or accommodation gives them the same euphoria as the trip itself, especially among people with higher education (61%).
Andreea Bercea, a psychologist from Prague Integration, contacted by Kiwi.com to comment on why even planning a trip makes people happy, said:
"Anticipating an event that you already know will make you feel positive has almost the same effect as the event itself, or your perception of what the event will be like. The human brain is often lazy, so it relies heavily on past experiences and works on associations to determine the future. That's why when you have an event perceived as positive, such as traveling, just planning or booking certain trips will create the illusion that you are already experiencing that event and as such the feelings associated with the event itself."
Sunny beaches as the happiest places for 69% of Romanians
Kiwi.com also made an informal survey on their social media channels, where their followers named various bustling cities such as Singapore, Las Vegas, Boston, and Venice as the places that made them unexpectedly happy. However, according to the survey conducted by STEM/MARK, for 70% or more people across nationalities a sunny beach best describes their happy travel place. Traditional laid-back small towns, snowy mountains or flowery hills and fields were preferred to large cities.
For 69% of Romanians, a sunny beach is the preferred happy place, whereas 39% chose a traditional laid-back town, 35% flowery hills or fields, and 28% snowy mountains. For 8.5% of Romanians, the endless desert is the travel destination that would make them happy – those aged 16 to 33 are the category that is most attracted to the desert, with 15% of them choosing it. Also, 21% of Romanians said that a happy experience means sitting at a cozy café terrace in a new city and reading a book.
"Since the beginning of human existence humans have interacted continuously with nature. Like every other living thing on our planet we have evolved in the care of Mother Nature. Humans often forget that we are part of nature. We are animals that began life like any other being: in the natural ecosystem. We often forget this because we like to think of civilization as something that has been removed from whatever natural thing exists. Only in the last few hundred years have humans developed techniques that have segregated us from natural environments. Therefore, when we return to nature, in this case the sea, the ocean, the waves we almost instantly experience a restorative, calming effect that leads to well-being and happiness for the human mind.  Experiencing these contrasting feelings with the life experienced in urban environments, just the simple contact with the sea, the ocean, the waves creates an instant association between the natural environment and well-being/happiness.", adds Andreea Bercea.
Doing sweet nothings or adrenaline rides?
According to the survey, most people tend to associate leisure and relaxing activities such as sunbathing on a beach or watching sunrises and sunsets with happiness. Romanians seem to prefer leisure activities over adrenaline-inducing ones, with 59% saying that the experience that makes them happy is sunbathing or swimming, 38% driving on a scenic road in a foreign country, and 35% discovering local food in a bustling market of a foreign city. Also, 27% of surveyed Romanians said that they enjoy getting off technology and disconnecting completely.
"Too much online connection leads to disconnection with the real and tangible environment. Of course when we connect with the real world, the benefits are real and tangible too, whether it is physical or mental contact, it causes the release of feel-good substances (dopamine, serotonin etc). It is true that our brain releases dopamine when using social media too, that dopamine hit, but it is short-lived and unsatiating, as opposed to connecting to the real/natural environment.", comments Andreea Bercea on why people choose to disconnect from technology when on vacation.
Out of all the countries surveyed, Romania is the only one in which there is a difference in preference for swimming and sunbathing between men – 64% – and women – 54%. Romanians who travel more frequently are more attracted to visiting museums (34%), bustling markets (46%) and driving around a scenic road (48%). For 24% of Romanians, raving at a concert best describes a happy experience.
"The reasons why people travel are as wide and varied as the destinations they book with us. Whether that's experiencing new cultures, meeting new people, or simply unwinding with the people they love without the distractions of day to day life, we know everyone is looking for their own version of what happiness means to them. That's why we do what we do everyday, to try to make sure low cost travel is open and accessible to everyone," commented Parker-Blagg on the survey and social media out-reach results.
*The survey was conducted by STEM/MARK on behalf of Kiwi.com among people aged 18 to 41 from Czechia, Slovakia, Hungary, Poland and Romania, who have traveled abroad for holidays at least twice in the last 6 years. The data was collected in the first week of March 2023 on 500 respondents from each country.
Andreea Bercea grew up in Timișoara, Romania and has been living and working in Prague for two years. She completed her bachelor's in Clinical Psychology and during her studies, she got trained and volunteered as a counselor for imprisoned minors in a juvenile delinquency youth center, and also for children with impaired vision disabilities in a specialized school. Andreea continued to pursue her studies by finishing her Master's Degree in Clinical Psychology and believes that self-awareness is the gateway to change. She covers fields such as relationship issues, dealing with emotions, self-esteem issues, depression, anxiety, and stress.
Prague Integration is a company providing mental health support for expats and locals in Prague, Czech Republic. Currently counting 30 qualified team members, Prague Integration offers counseling services in more than 15 languages in both online and in-person formats. These services cover individual/group/partner/children and teenager counseling and corporate clients.