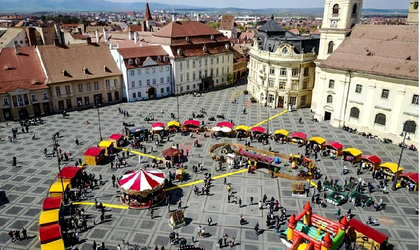 Transilvania Train, the first Romanian tourist train, run in partnership with national railway carrier CFR Calatori, will be operational for a second consecutive year, between August 22 and 26, 2018. The train will run on the route Brasov – Sighisoara – Medias – Alba Iulia – Sebes – Sibiu – Fagaras and return.
"The train explores the most beautiful areas of Transylvania, on a 600 km long railway track. The program includes visits to more than 20 fortified buildings, 15 traditional craft workshops, 2 unique concerts in the Evangelical Church of Sebes and in the historic center of Sibiu and 2 traditional parties," CFR Calatori said in a statement.
Travelers will learn how to make handcrafted objects together with local artisans in the Medias area and will eat what they cook after being given lessons in traditional Romanian cooking.
According to their website, Transylvania Train 2018 offers a touristic package which immerses the participants in traditional and cultural experiences, each of the 5 days having its own theme: day 1 – meet & greet day; Day 2 – the story of the fortified churches in Transylvania; Day 3 – The story of traditional castles and crafts; day 4 – traditional Transylvanian cuisine; day 5 – cultural events in Sibiu.
"Transilvania Train is a tourist experience that takes place once a year, a legendary adventure through the heart of Transylvania. On the 5-day trip we will explore the traditions, values ​​and culture of Transylvania, sample tasty traditional Saxon cuisine and take part in memorable performances and concerts, organized in special locations such as fortified churches or the center of medieval towns," the organisers said.
Prices start at EUR 900 euros with VAT per person.