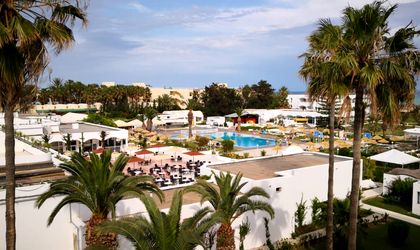 After a break of a few years, in 2019, the major tour operators are resuming charter flights to Tunisia, and are estimating that by the end of October almost 10,000 Romanians will visit Tunisia. 
There will be three flights operating every week, departing from the Otopeni, Cluj-Napoca and Arad airports.
"We made this decision because Tunisia is a highly offerable, diverse and very accessible destination. And another noteworthy aspect is that it is safe. We estimate that by the beginning of October (when the last airplane headed to Tunisia will take off), we will have sent about 9,900 Romanian tourists on holiday in this country," said Raluca Hatmanu, Marketing Director for one of the tour operators.
According to Nawfel Dhifelleh, a tourist guide from Tunisia, after the "Arabic Spring", Tunisia lost its trust în the eyes of foreigners who wanted to visit this country, as it was deemed unsafe. "Now, tourism accounts for 6.5 percent of our GDP and is a reliable source of income for locals in the main cities. Most of those locals earn their incomes from industries secondary to tourism such as excursions, souvenir shops and restaurants. An asset of this destination is also the diversity of souvenirs that Romanian tourists can bring home from a holiday in Tunisia: from leather goods to fragrances and dried fruits," said Mr. Dhifelleh.
Tourist packages start at EUR 450/person ( all tax included) for 7 nights' accommodation in a 4-star all-inclusive hotel, plane tickets, transfers and tourist assistance. Here are some examples of prices calculated for July, in high season:
Hammamet
3-star hotel: from 337 euros + 95 euros tax / person / stay
4-star hotel (Magic Splash Venus): 424 euros + tax / person / stay
5-star hotel (Magic Life): 550 euro + tax / person / stay
Sousse
4-star hotel (Magic Royal): 370 euros + tax / person / stay
5-star hotel (Movenpick): 550 euros + tax / person / stay
As for the diversity of hotels, there are choices for all categories of tourists – from families with children to couples and seniors – and for all budget categories.