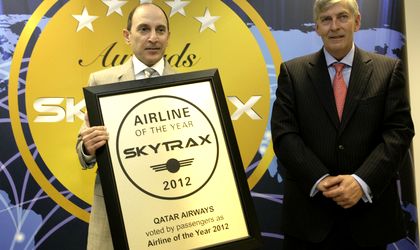 Partner Content                     
 Qatar Airways has won three top accolades including the main award World's Best Airline for the second year running at the annual Skytrax World Airline Awards. The Doha-based carrier retained the coveted title of Airline of the Year 2012 and notched up two further awards – Best Airline in the Middle East for the seventh consecutive year and the Best Airline Staff Service award in the Middle East.
The winners were announced at an awards ceremony attended by leading figures from the global aviation industry at the Farnborough Air Show, the world's largest aerospace event taking place in the UK this week. The Skytrax awards, conducted by the global aviation research organization, polled over 18 million business and leisure air travellers from more than 100 countries.
Qatar Airways Chief Executive Officer Akbar Al Baker hailed the achievements as "fantastic recognition" of all employees at Qatar Airways for the dedication and commitment to their job.
Air travellers were surveyed during a 10-month period by telephone, questionnaires and online about their experiences with airlines on the ground and in the air. The survey measured passenger satisfaction across more than 38 key performance indicators of airline front-line product and service, including check-in, boarding, onboard seat comfort, cabin cleanliness, food, beverages, in-flight entertainment and staff service. The survey covered more than 200 airlines, from the largest international airlines to smaller domestic carriers.
Qatar Airways has seen rapid growth in just 15 years of operation, currently operating a modern fleet of 109 aircraft to 117 key business and leisure destinations across Europe, Middle East, Africa, Asia Pacific, North America and South America.
Since the beginning of the year, Qatar Airways has launched flights to Baku (Azerbaijan); Tbilisi (Georgia); Kigali (Rwanda); Zagreb (Croatia), Erbil (Iraq), Baghdad, and most recently, Perth (Australia) with many more destinations planned during 2012.
Over the next few months, Qatar Airways launches services to a diverse portfolio of new routes, including Kilimanjaro, Tanzania (July 25); Mombasa, Kenya (August 15); Yangon, Myanmar (October 3); Maputo, Mozambique (October 31) and a date yet-to-be-announced to the Serbian capital Belgrade.