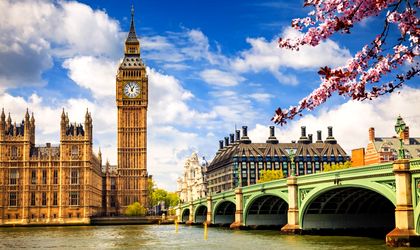 The 4th of May has been the most popular time of the year so far for Romanians booking trips to London on Kiwi.com, around the time of the Coronation of King Charles III. Kiwi.com, a leading travel-tech company, shares information about Romanians' travels to London.
46% of Romanians who booked return flights to London through Kiwi.com chose city-breaks of up to 3 days, 29% spent 4 to 6 days there, 16% plan to return in 1 to 2 weeks. 5% of them planned vacations of 2 to 3 weeks in the capital, while 4% chose longer stays in London, of between 3 weeks and 2 months.
A third (34%) of Romanians planned ahead, and booked their tickets 3 weeks to 2 months in advance. 20% of them booked their flights 1 to 2 weeks before departure, 12% did so with 2 to 3 weeks in advance, and another 12% got their tickets 4 to 6 days ahead of their departure day. However, 15% of Romanians booked their tickets last-minute, up to three days before departure.
Romanians paid, on average, 101 euros for their trips to London. Those who booked 2 to 4 months in advance got the best price, paying 59 euros. Those who booked 2 to 3 weeks in advance paid 64 euros, those who decided on their tickets 1 to 2 weeks in advance paid 94 euros, on average. Romanians booking their tickets 4 to 6 days in advance paid 147 euros, while those who chose last-minute tickets paid 216 euros, on average.
More than half (52%) of Romanians who traveled to London between May 1st and May 8th did so from Bucharest, followed by Iași (17%), Bacău (8%), and Cluj-Napoca (7%). 60% of Romanians arrived at Luton Airport, 23% at London Stansted, 12% at Gatwick, and only 3% landed at Heathrow.
It's hard to know if Romanians traveled to London to see the Coronation, although they might have caught glimpses of it on their travels. What is certain is that London remains one of the most popular destinations for Romanians traveling abroad any time of year.