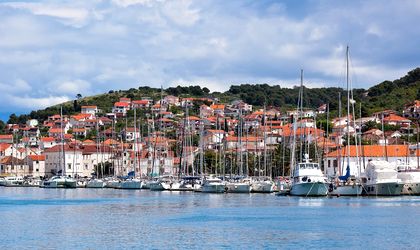 Where to travel for the long Easter weekend? Kiwi.com, a travel-tech company, shares travel inspiration and costs for those who want a less crowded destination for their spring break – a few Easter Eggs to look for when traveling abroad this spring.
What are Easter Eggs? Most of us are familiar with the tradition of painting eggs with special, archaic designs in time for Easter. In certain regions of the country, there is the tradition of scouting for them in our gardens on Easter Sunday – something similar to travel Easter Eggs: finding hidden gems and going off the beaten path.
You may be familiar with the concept from movies or games. For instance, did you know that the Nevermore Academy in the hit Netflix series Wednesday is actually the Cantacuzino Castle in Bușteni, and that you can visit it any day of the week? This is the kind of Easter Egg that Kiwi.com has searched for, and the company shares their best finds.
Sunny destinations with hidden treasures – Cyprus and Spain
Animal lovers are sure to find not so hidden treasures, as there are more cats than people in Cyprus, but for those looking to go on an adventure, the island has many mysteries to unravel.
The average price for trips to Cyprus in April is 96 EUR (around 100 for Larnaca, and 91 EUR for Paphos).
Nature lovers can visit Akamas Peninsula National Park, home to over 200 species of birds, and diverse flora and fauna, that has everything from rare tulips and knapweeds that are critically endangered and can only be found in this area, to green turtles. It is also home to Aphrodite's baths, where a natural spring supplies water to the pool. According to myth, Aphrodite would bathe in this pool, and this is where she first met her great love – Adonis. The waters here are said to hold special rejuvenating powers.
Lefkara village is home to the island's traditional embroidery, the famous Cyprus lace called 'Lefkaritiko', included on the UNESCO Intangible World Heritage List. The lace has been made in Lefkara since the Middle Ages. The women in the village were taught how to stitch lace embroideries by Venetian women during the years of Venetian rule (1489-1571).
Spain also has plenty to offer for those who want to try the road less taken.
The average ticket prices for trips to Spain this April run from 136 EUR for Valencia, 157 EUR for Barcelona, and 172 EUR for Málaga.
El Caminito del Rey, in Málaga, for instance, is a walking route in the interior of Málaga, in Andalusia, a pedestrian walkway of more than three kilometers, attached to the rock inside a canyon, hanging up to 105 meters high over the river.
From Cáceres to Salamanca, runs the route of Iberian ham. The black Iberian pig, fed exclusively on organic acorns, grows in the meadows of southeastern Spain, mainly between the medieval cities of Salamanca and Cáceres.
Scouting for movie sets? Try Hungary and Poland
Have you ever wondered where your favorite movies or TV shows were filmed? Some shooting locations may be closer than you think. New York Café in Budapest, the building that won the title of the World's Most Beautiful Café, has been featured in several international films, including Robert Pattinson's Bel Ami and Jennifer Lawrence's American spy thriller Red Sparrow.
The average price for plane tickets to Budapest this April is 82 EUR.
The 2019 series Shadow and Bone was filmed at Festetics Castle in Keszthely, one of Lake Balaton's most popular tourist attractions that can be visited at any time.
Fans of the TV series The Witcher have several options as well: the Tata Castle appears in the fifth episode of the first season that also features several Hungarian sites, such as the Kiscelli Museum in Budapest, the Bauxite Geological Park in Gánt, Monostor Fortress and Vajdahunyad Castle.
Poland is also full of The Witcher sets, such as the Ogrodzieniec Castle near Krakow. You can also visit the Crane in Gdansk, the painted village in Zalipie, and the windmills in the Wielkopolska Ethnographic Park in Dziekanowice, which were sources of inspiration for the show and design references for the video game.
A small brick chapel in the Baroque style, located in Kudowa-Zdrój, in the south of Poland houses the skull chapel in Czermna – made of human skeletons – one of only three such remaining sites in Europe. Instead of stucco, gypsum and limestone, the walls of the chapel are decorated with human skeletons.
This April, trips from Romania to Wroclaw average 60 EUR, and those traveling to Krakow have paid around 163 EUR on their tickets.
Trending destinations around Easter time
According to Kiwi.com, the most popular destinations among Romanians this April are Cyprus, Malta, Thailand, Greece, Serbia, Indonesia and Saudi Arabia (which has seen an increase of over 287% compared to the same period last year).
The most popular cities among Romanians who wish to make use of the bank holidays around Easter are Memmingen, Naples, Catania, Málaga, Larnaca, Budapest, Basel, Chania, Genoa and Faro.