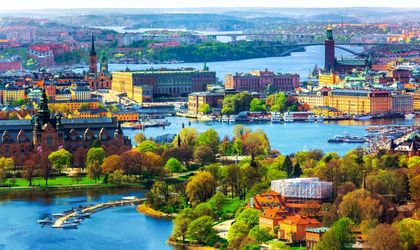 The greenest cities in Europe are attracting tourists from all over the world, and the Romanians might look at the opportunity to visit the beautiful treasures that our great continent has to offer.
More than a third (37 percent) of Romanians say they would go to a city break in 2019. It is not surprising that most of them prefer, beyond exploring cities and sightseeing, to be able to relax in a peaceful and friendly environment.
Whether they want to spend an afternoon in the park or embark in a bicycle tour of the city, Romanian tourists search "green" opportunities they may lack at home, according to momondo.ro.
Top 3 most recent greenest cities in Europe
In 2019, the European Greenest Capital is Oslo, which impresses with its holistic approach, taking care of a wide range of areas, including: biodiversity, public transport, or citizens' health.
Tourists planning a city break here will be able to explore a large pedestrian space at the expense of cars, as well as large green spaces across the city.
The average price of a round-trip ticket at economy class for an adult: EUR 191.
For the year 2020, the Capital city of Portugal, Lisbon, was chosen to highlight the strategy for improving the quality of life of citizens and tourists.
Developing public electric transport (tramways, electric cars, electric bikes), performance in reducing water loss in the public system and re-using it for irrigation or street cleaning, and focusing on integrating citizens into the mission of making Lisbon a sustainable city, have brought the European Green Capital title of 2020.
The average price of a round-trip ticket at economy class for an adult: EUR 226.
A few weeks ago, Lahti (Finland) was announced as the next city appreciated for its efforts to contribute to the health of its inhabitants.
Since 1997, the city has begun to work on improving air quality, accustoming local companies to monitor and contribute to its growth.
Also, a svery high proportion – 99 percent – of its citizens live at maximum 300 m from an urban green space, allowing them to enjoy hiking, fishing or even harvesting forest fruits or mushrooms at leisure.
Policies for recycling or inclusion of citizens in the sustainable development of the city also contributed to the title of green city.
Average price of a round-trip ticket for an adult: EUR 245 (Helsinki).
Greenest cities in Europe: other awarded cities
Since 2010, when this project was born, 9 cities have been awarded for their sustainability efforts, and among them the most visited by Romanian tourists are Stockholm (2010), Hamburg (2011), Nantes (2013) and Copenhagen (2014).
Starting in 2015, the "The European Green Leaf Award" was launched, a similar competition for smaller cities, and among the award-winning ones are Limerick (Ireland) and Mechelen (Belgium) – 2020; Cornellà de Llobregat (Spain) and Horst aan de Maas (Netherlands) – 2019; Torres Vedras (Portugal) – 2015.
There are no cities in Romania with coherent strategies for sustainable development, but those which have the largest green areas per inhabitant are Cavnic (674.1 m2) and Baia Mare (119.2 m2), according to the National Institute of Statistics.
In addition to the white winter versions, when most tourists come here to enjoy the snow and related sports, both are preferred by Romanians who want to explore mountain routes in the northern part of the country, monasteries or other tourist attractions in (Do not miss the Merry Cemetery in Săpânţa or the Memorial of the Victims of Communism and Resistance in Sighetu Marmaţiei).
Regarding the use of renewable resources, Alba Iulia enjoys a very good performance (99 percent), mainly due to the hydropower plants that feed the city (according to a study by the Carbon Disclosure Project).
Tourists usually spend most of their time visiting the Alba Carolina Fortress, or use the location as a base for visiting nearby places (Deva or Transalpina Fortress).
The average price of a round-trip ticket at the economy class for an adult in the greenest cities in Europe:
Stockholm – 173 EUR
Hamburg – 174 EUR
Nantes – 250 EUR
Copenhagen – 185 EUR