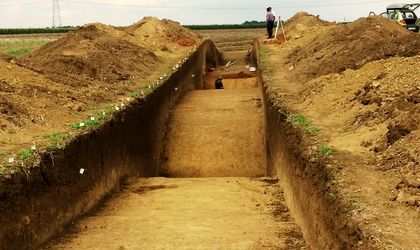 Archaeologists have discovered in Arad a fortress that stretches over nearly 90 hectares, which was built about 3,400 years ago in the Bronze Age by a local community in the lower Mures area, according to professor Florin Gogaltan of the Institute of Archeology and Art History of the Romanian Academy in Cluj-Napoca.
"The community that built the great citadel of Santana-Cetatea Veche was very likely to possess the important golden, copper and tin deposits that were at the foot of the Zarand Mountains," Florin Gogaltan told BR.
According to aradon.ro, Rudiger Krause, professor at Goethe University in Frankfurt, and professor Florin Gogaltan concluded that the Old Fortress of Santana was built in the 14th century before Christ, about 3,400 years ago. Moreover, they said that the discovery is much larger than the city of Troy, which is said to have been an advanced civilization at the time.
"At Santana, the buildings were made of clay and wood, a sign that civilization adapted to the building materials it had available. The fortress of Santana was fenced with deep defenses of over four meters, but also with earth waves over 20 meters. We are in front of one of the largest and most imposing fortresses in Europe," explained Gogaltan.
The researchers measured about 55 hectares of the nearly 90. And, as a result of the measurements, they have discovered a huge palace, 100 meters long and 40 meters wide.