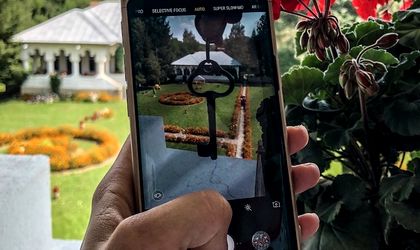 If you are an Instagram fan and you follow travel and Romania hashtags, you have probably noticed a initiative of promoting Romania's heritage using the photo platform. Digital Chroniclers (in Romanian, Cronicari Digitali) have been on the road and have travelled over 8,000 km to find the best stories Romania preserves nationwide. Why Digital Chroniclers?
BR talked with Mihaela Barbu, the communication manager of the project, to find out what's behind the #cronicaridigitali hashtag.
How did you come up with the idea of presenting Romania's cultural patrimony online?
We often hear Romanians complaining that the "state" is doing nothing, that we have a valuable inheritance, but that it is being wasted by the lack of attention and investment that should come from the authorities. But what are we actually doing for it besides complaining? How can we save our "living history"? This is how we realized that the first and least expensive step is to find a way to get to know the heritage buildings we have in Romania, to find out stories and to tell them to others. It's the first step to pull it out from obscurity. And so the "Digital Chroniclers" project was launched, a campaign we started and successfully carried out in partnership with the National Heritage Institute.
Why a project dedicated to millennials regarding the cultural patrimony?
Digital Chroniclers have been projected as an engagement tool that brings Romania's culture, traditions and values to the X, Y and Z generations. We are talking about a digital storytelling project that aims to promote cultural heritage through the involvement of the millennial generation, transforming their representatives in ambassadors who promote the national heritage through their own channels of communication. We chose this category of young people because, beyond the superficiality they are often accused of, they are the most thirsty to discover everything that truly means Romania's heritage: cultural landscapes, living customs and traditions, crafts, industrial, ecclesial, archaeological heritage, traumatic, ruins or culinary specialties. Also, they are the ones who have the fastest means of propagating information they find interesting at their fingertips.
What was the most difficult challenge of the project? How about the easiest?
It would be redundant to talk about the lack of funding or the difficulties of obtaining it when it comes to a cultural project, so I will answer that the biggest challenge was to find the channel through which we could safely penetrate the messages we wanted to transmit. When we identified Instagram as the answer, it suddenly became "the simplest challenge" because the young people loved the first project and helped us go viral with the hashtag #cronicaridigitali just a few weeks after the launch of the campaign. This unique type of communication in the cultural field has helped us to win four national awards this year: Best Digital PR Campaign at the IAB MIXX Awards 2018 and three other PR Awards 2018.
You mentioned cultural entrepreneurship in one of your articles. How do you define this concept and how do you see it implemented in Romania? Is it possible? 
In the first part of the project we wanted to inform and communicate to one million young people what a beautiful heritage we have and we have managed to achieve this goal. For 2019, or 2020 at the latest, we would like to move to the next level and involve the community in supporting Romania's cultural heritage. We want to convince young entrepreneurs to build businesses around heritage assets, either through co-financing or through fundraising. The current generation, starting at 25+, is more agile and more active than we are accustomed to. We often meet young people who tell us that they want to do things on their own, develop small businesses, but at the same time they want to help society somehow, they want to give something back. And this trend perfectly meets our medium-term plan.
What are the numbers so far regarding the campaign and what's next for this project? Can we already talk about ROI?
In just five months of campaigning, the project reached one million young people, and the online campaign reached 7 million. Over 8,000 km of heritage tours were organized with instagrammers, bloggers and journalists with the aim of discovering about 60 heritage objectives. Two Heritage Instameets have been organized in Bucharest and brought together about 400 instagrammers.
We cannot talk about a return on investment, as the campaign started with a minimum budget, in the first months we only had a mobility partner with us and financial support only came from the the two offline events (Heritage Instameets) held in Bucharest.
Photos courtesy of Cronicari Digitali