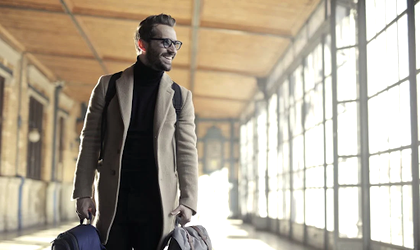 A business trip is a specific kind of travel when you must go somewhere and do your best to represent your company. If you enjoy traveling, this is a fantastic chance for you to indulge your passion. You must understand, nevertheless, that these occasions differ slightly from those you experience when on vacation. You must be adequately prepared for a business trip in order to fulfill all the obligations and, eventually, accomplish great achievements that will be beneficial to your organization. Check out our straightforward guide that lists six practical techniques to plan and improve your business travel.
Choose the best mode of transportation and book in advance
Make your bookings well in advance, whether you're taking the train, bus, airplane, or any other mode of transportation. This guarantees you'll lock in the greatest prices while also giving you first dibs on accommodation. Most airlines provide frequent-flyer incentives when it comes to travel; in the future, you may get free tickets or have your seat upgraded to a better class. Additionally, make sure you can always alter flight dates and times, if necessary. 
On the other hand, due to their flexibility and ease of business travel, charter flights have recently grown to be fairly popular. In essence, these are reserved, rented, and designed just for the individual, company, or other entity chartering them. If you're unsure of what you can expect from a charter flight, just know that it will take off and land at the hours and dates you specified. In terms of the itinerary, you have a say in not just the cities you fly into and out of for your destinations, but also whether or not you make any stops. Additionally, you'll benefit from avoiding the airport's lengthy queues and terminals while having your privacy and comfort guaranteed.
Think about the accommodation
The ideal location for accommodation if you'll just be there for a short while is close to both the business location and the airport. A nearby hotel will provide additional culinary attractions and other delights if you plan to have some spare time. Make sure the hotel has unique amenities like meeting rooms, all-day coffee and bar service, and a safe to store your belongings if it will serve as your headquarters for meetings and business. Ask if your accommodation has access to Wi-Fi and whether it is included in the price.
Pack the essentials
You'll be traveling with or without baggage depending on how long you plan to stay, so your packing list may be longer or shorter. Even individuals who often travel for work occasionally miss something crucial, which is irritating.
Therefore, why not create a basic list of your needs and check off the items as you go? Typically, this consists of your passport, laptop, charging cord, business cards, and more. Of course, your specific packing list will depend on your profession, travel destination, and sector.
Stay available
Make sure you can stay in touch with your clients, colleagues, and company because a business trip is different from a vacation. You ought to be able to access your email and stay updated on any potential problems that you need to address. If you are traveling to another country, you may need to plan how you will use your phone to avoid incurring hefty telephone costs. You should also think about how you will meet your Internet needs while on the move.
Look and feel wonderful
You definitely want to create a good impression at your meeting, so even if some trips could be too long and exhausting, make sure you look and feel wonderful. Make sure to sleep well, get up early enough to give yourself time to take a calming bath or shower, eat a hearty meal, put on a well-fitting suit or dress that makes you feel good, and arm yourself with a lovely smile. That is really crucial, especially when it comes to your business. If you feel and look wonderful, you will exude confidence that others will notice and ultimately like. 
Prepare for the meeting
Even if your goal is to make new contacts or get a basic sense of a possible customer, knowing what you expect to accomplish on the trip will help you stay more focused. Gain as much knowledge about the individuals you will encounter as you can. All of the important topics you will discuss with them in advance should be well-prepared. Being prepared for all the questions and subjects to discuss will give off the idea that you are a well-organized and diligent person to work with, which will pique the curiosity of those you meet.
When the time comes for your business trip, we hope you will find this guide helpful. By heeding this advice, you can make sure that your vacation is both a success and a memorable one.